Apple Registers Web Domains Related to 'Magic Keyboard'
Alongside its slew of product announcements yesterday, Apple registered several new web domains related to the term "Magic Keyboard", including applemagickeyboard.com, applemagickeyboard.net, and applemagickeyboards.com.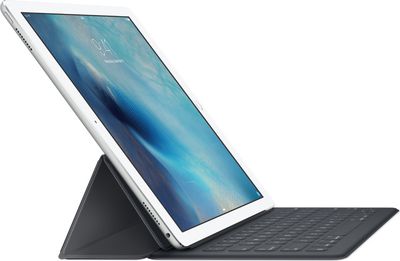 Apple's Smart Keyboard for iPad Pro
While Apple did announce a new keyboard cover for the upcoming iPad Pro at yesterday's event, the product is called
Smart Keyboard
. It is possible Apple is simply looking to secure domains similar to the Smart Keyboard name, but perhaps a more likely possibility is that it is the name for Apple's upcoming wireless keyboard
revealed in regulatory filings
last month.
Apple already offers a Magic Mouse and a Magic Trackpad, and last month's FCC filings revealed a "Magic Mouse 2" name for the upgraded accessory, so it seems reasonable Apple could be looking to introduce a "Magic Keyboard." The publicly released portion of the filing for the keyboard did not, however, reveal any new "magical" features as it only showed a bottom view of the accessory for the purpose of illustrating where regulatory labels would be displayed.

Image from Apple's FCC filing for new wireless keyboard
Aside from the newly registered domains, we've been unable to find any other references linking Apple to the "Magic Keyboard" name. Searches of trademark databases for many countries did not reveal any such filings that could be plausibly linked to Apple.
It remains to be seen when Apple will introduce its new keyboard and mouse revealed in the FCC filings, but it could possibly come alongside new 21.5-inch Retina 4K iMacs that are just going into production ahead of a release later this year.