iPhone 6s First Impressions: 'Familiar and Yet Different' for an 'S' Generation Device
Perhaps the biggest announcement out of the "Hey Siri" event today was Apple's confirmation of the iPhone 6s and iPhone 6s Plus, two new smartphones that will bring new features to Apple's smartphone line, including faster Touch ID, 3D Touch, and improved cameras. Following the event, Apple let a handful of media have closer looks at the new line of iPhones, all of whom came away with nearly universal positives regarding the small "S" generation design changes and its beefier upgrades under the hood.
TechnoBuffalo has posted one of the first videos of both the iPhone 6s and iPhone 6s Plus, noting that while the latter's name "is a bit of a tongue twister," both phones appear to back up Apple's claim of improved internal upgrades. Particularly, they were impressed by the 3D Touch feature and its "quick actions," that provide shortcuts like taking a selfie with the camera app or peeking into a text message in Messages.
What most people will pay attention to is the new 3D Touch technology, which is capable of discerning between a light tap and a hard press. This new feature will allows users to Peek and Pop into apps and other functions; Peek at an address in Maps, or quickly look at a photo on Instagram. Or you Pop into an app and quickly take care of business.
SlashGear called the iPhone 6s "familiar and yet different," noting that while the phones look largely the same as last year's models, there's enough new aspects to each device "to keep things more than interesting." The site liked the already-impressive third-party support for 3D Touch and found the front-facing selfie camera -- which uses the actual iPhone screen as a Retina Flash -- to work "surprisingly well." Unfortunately, they weren't as big on one of Apple's more surprising announcements, Live Photos.
Live Photos I'm not so sure about. They're reminiscent of HTC's Zoe idea, which though interesting at launch weren't all that enduring over time. Capturing 1.5-seconds either side of a still feels a little on the short side to me, though maybe I'll be proved wrong when third-party apps wade in and take advantage too.

All in all, for an off-season upgrade there's plenty to like about the iPhone 6s and iPhone 6s Plus. Those already fans of iPhone will love the tweaked hardware and boosted performance, and 3D Touch could do to capacitive touchscreens what multitouch did to resistive ones.
On the photo and video side of things, Wired said images and video on the new iPhones "look insane," and that while the storage implications of Live Photos is yet to be determined, the new feature is endearing and creates a more lively photo gallery. The site also particularly touted the usefulness of the new 3D Touch feature, describing it as a way for the iPhone to feel "less like a collection of apps and more like a single, cohesive thing." All the same, the site believes there could be a downside to 3D Touch in the way users have to hunt for it in the first place.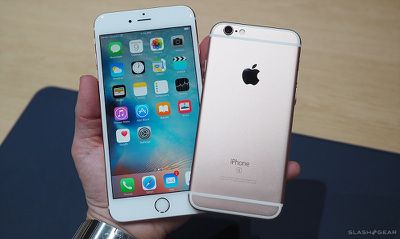 The problem with 3D Touch is that you never know where the hidden menus are—some apps don't support it, neither do some menus, and you never get a hint. So you're forced to hunt around looking for this buried treasure, which I'm worried I'd just stop doing after a while. 3D Touch lets you "see" what's inside whatever you're looking at; but how far it will let you look is difficult to say so far.

Despite the noteworthy bits, this is the same S cycle upgrade we're used to: You're getting a lot more power, a few new ways to go about using your device, and a couple of small things that make the phone more fun. Oh, and that rose gold looks pretty good.
The iPhone 6s and iPhone 6s Plus will be up for pre-order at 12:01 Pacific this Saturday, September 12. Both devices will then be available on September 25 in the United States, Australia, Canada, China, France, Germany, Hong Kong, Japan, New Zealand, Puerto Rico, Singapore, the United Kingdom, and in over 130 countries by the end of the year. There are a myriad of ways to purchase the device, which now include the new iPhone Upgrade Program announced today.