Currys and PC World Gearing Up to Sell Apple Watch in UK
MacRumors has learned that British electronics retailer Currys, which co-brands some locations as Currys and PC World, has added the Apple Watch to its internal inventory system as it gears up to begin selling the wrist-worn device.
Currys and PC World has a large presence throughout the United Kingdom and Ireland, with a combined 295 superstores and 73 high street stores in both countries. It remains unclear how many of those locations will be carrying the Apple Watch.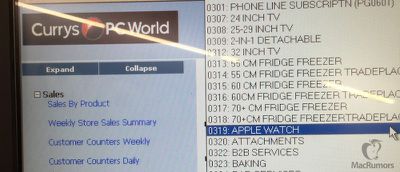 When searching for the Apple Watch on the Currys website, a banner informs customers that the device is "currently not available at Currys and PC World" and advertises a range of smartwatches from Sony, Motorola, LG, Pebble and others.


Apple has been expanding Apple Watch availability beyond Apple Stores over the past few months. Best Buy in the U.S. began selling the Apple Watch in early August, followed by Best Buy in Canada, Harvey Norman and Myer in Australia and Fnac in France.