Best Buy Accelerating Apple Watch Rollout to All 1,050 Stores Amid Strong Demand
Best Buy CEO Hubert Joly today announced that the company plans to accelerate support for the Apple Watch by having the wearable device be sold in every one of its 1,050 retail locations across the United States "by the end of September" (via Fortune).
The move follows Best Buy's initial plan to deploy retail support for the Apple Watch in just 300 of its stores by the holiday season, but recent strong sales of the device have encouraged the retailer to back Apple in not just Apple Watch support, but with all of the Cupertino company's products.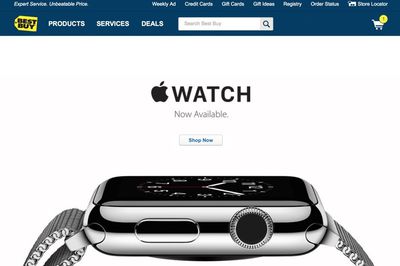 Currently undergoing renovations at 740 locations in the United States are the Apple branded sections of Best Buy's retail stores, "including new fixtures and more display tables for phones, computers, and tablets." The company has already completed the update at 350 of its stores and has plans to get another 170 completed before the holiday shopping rush coming later this year.

We've also been working with Apple to update the 740 stores-within-a-store that were first implemented in 2007. The stores-within-a-store will have new Apple fixtures and are larger with more display tables for phones, computers, and tablets. We've already implemented approximately 350 of them, and expect to upgrade a total of approximately 520 by the holidays.

The additional display tables are great for the merchandising of Apple Watch, which went on sale at BestBuy.com and in more than 100 of our stores in August. Now, because demand for Apple Watch has been so strong in these stores and online, we are excited to share that beginning September 4 we will be carrying Apple Watch in more than 900 of our big-box stores. Apple Watch will be available in all 1050 of our big-box stores and approximately 30 of our Best Buy Mobile stores by the end of September.
Best Buy began selling the Apple Watch in-store and online in early August, along with a few third-party accessories for the wearable, like charging docks and various bands. The retailer will even begin selling AppleCare and AppleCare+ warranty plans in mid-September, no doubt hitting just in time for the launch of the next generation iPhones. Apple has avoided attaching specific sales figures to the Apple Watch, but Best Buy's doubling down on the company's wearable device is no doubt a sign of the Apple Watch's success.