Best Buy Begins Selling Apple Watch
In late July, Best Buy announced plans to begin Apple Watch sales online and in its retail stores beginning on August 7, and as promised, Apple Watch sales have now kicked off, with the device available for purchase on Best Buy's website.
Best Buy plans to offer 16 models from the aluminum Apple Watch Sport and stainless Steel Apple Watch collections. Models available online include all 38 and 42mm Apple Watch Sport models, and 38 and 42mm stainless steel Apple Watch models with Black Sport Band, White Sport Band, and Milanese Loop.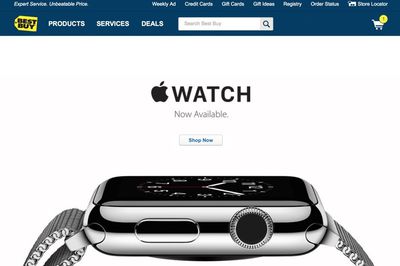 Apple Watch purchases placed online ship immediately, and in-store pickup is also available. Best Buy will likely begin in-store sales of the Apple Watch when participating retail stores open in the morning across the United States. The Apple Watch is available in 100 Best Buy stores, with Best Buy planning to expand retail availability to more than 300 stores over the next few months.
Best Buy is also selling a selection of Apple Watch Sport Bands and the Milanese Loop, plus the company is offering a wide range of Apple Watch accessories from third-party manufacturers, including charging stands, screen protectors, protective cases, and bands.
Best Buy is the first major national retailer aside from Apple to sell the Apple Watch. Since the device's launch in April, it's been limited to the online Apple Store, Apple retail stores, and select boutiques around the world due to constrained supplies.
Apple has managed to ramp up production and catch up with demand rapidly over the past few months, with the expansion to Best Buy coming less than two months after the Apple Watch became available for purchase in Apple's own retail stores.