Apple Watch Users Embracing Apple Pay for Everyday Purchases
Apple Pay on iPhone is a convenient and secure way to make payments without taking a debit or credit card out of your wallet, but you still need to take the smartphone out of your pocket to make a purchase. For that reason, Apple Pay has proven more transformative on Apple Watch, since the device is worn on the wrist and readily available for contactless payments.
Apple Pay with a phone is still just taking something out of your pocket. Not transformative. With a watch it's amazing. End of friction — Benedict Evans (@BenedictEvans) June 28, 2015
The latest data from research firm
Wristly
supports that notion, with 80% of the over 1,000 respondents surveyed in the U.S. and U.K. claiming they have used Apple Pay on an Apple Watch at least once. The remaining 20% of respondents indicated they "do not perceive a benefit" to Apple Pay, have security concerns or believe their payment needs are already being met.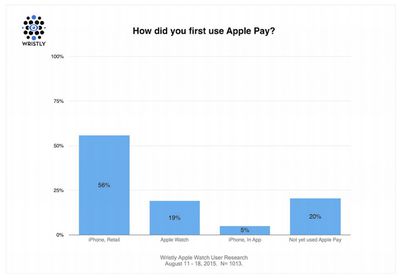 Just over half (51%) of respondents described using Apple Pay on the Apple Watch as "magical," an adjective often used by late Apple co-founder Steve Jobs, while 42% indicated that the service is "convenient." An additional 3% of respondents said Apple Pay is "good," but with some areas of concern, and the remaining 4% of users found Apple Pay "not that useful."
Given the choice, 79% of respondents preferred to use Apple Pay on the Apple Watch and 9% preferred to use the mobile payments service on an iPhone. The survey panel most commonly used Apple Pay for everyday shopping (81%), in addition to recurring services such as Starbucks (60%), bigger purchases (35%), in-app purchases (29%) and other purchases (11%)…


Wristly's sixteenth weekly Apple Watch Insider's Report [PDF] details other statistics and usage cases for Apple Pay on Apple Watch, including brand impact, purchase frequency, average number of debit and credit cards set up, agree statements and more.
Wristly previously shared Apple Watch customer satisfaction data, cited by Apple CEO Tim Cook during the company's most recent quarterly earnings call, and health and fitness data that showed healthy lifestyle changes among early adopters.
Apple Watch users interested in joining Wristly's panel can sign up on the firm's website.