Apple Watch Beats Original iPhone and iPad in Customer Satisfaction Among Early Adopters
While some critics within the tech media have heavily scrutinized the Apple Watch since its launch, new survey data shared by Techpinions suggests that the true mass market sentiment toward the wrist-worn device is overwhelmingly positive. In particular, the survey found that traditionally "non-tech" users liked the Apple Watch more than those with a closer connection to the tech industry.
According to research firm Wristly and Creative Strategies analyst Ben Bajarin, overall customer satisfaction with the Apple Watch is 97%, which is the highest customer satisfaction rating of any first-generation Apple product ever released. Wristly determined that rating by combining the "Very Satisfied/Delighted" (66%) and "Somewhat Satisfied" (31%) boxes together.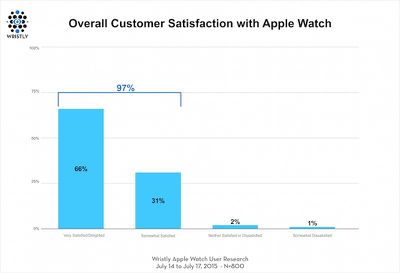 The survey data is based on the Wristly Apple Watch Owner Network, a diversified panel of over a thousand Apple Watch buyers. Wristly says that it asked respondents a series of pre-qualification questions to ensure that the panel did not skew towards only early adopters and instead represented a healthy range of consumers. Among those profiled, Wristly found 34% to be "tech insiders" and 53% to be "non-tech" users.
What has been fascinating about the Wristly Apple Watch Panel is how diverse it is across the adoption cycle spectrum. We have those on the bleeding edge of adoption all the way through mainstream consumers who aren't buying it for the sake of Apple fanaticism or love of tech and gadgetry but because they saw the utility and usefulness of the product right off the bat. They are all represented in our panel.
Apple Watch customer satisfaction was found to be higher than the original iPhone and iPad, which scored 92% and 91% ratings respectively, although satisfaction levels were contrasting among different types of users. "Non-tech" users and "tech insiders" were most satisfied with the Apple Watch, while "app builders" were slightly less satisfied, with less than half choosing the "Very Satisfied" box.


Apple has not publicly disclosed any official Apple Watch sales figures to date, and will be grouping the wrist-worn device under its "Other Products" category in quarterly earnings reports. Apple Watch global sales estimates range between 2.8 million and 5.7 million ahead of the company's third quarter fiscal results set to be announced on Tuesday at 1:30 PM Pacific.