Apple Watch Leading to Healthy Lifestyle Changes Among Early Adopters
Less than four months after the Apple Watch launched, many early adopters are finding that the wrist-worn device has motivated them to make healthy lifestyle changes. From walking and exercising more often to making healthier choices and playing more sports, market research firm Wristly found that many Apple Watch buyers are taking full advantage of the wearable's health and fitness features.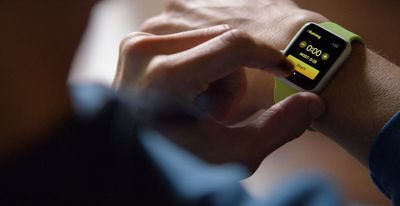 Greater than 75% of survey participants among Wristly's panel of nearly 1000 Apple Watch buyers indicated that they "Strongly Agree" or "Agree" that they have been standing more since receiving the Apple Watch. Similarly, 67% of participants agreed that they walk more, 59% agreed they make better health choices and 57% said they exercise more often with the Apple Watch.


Early adopters are generally satisfied with the Apple Watch's health and fitness features, especially those included stock on the device. An aggregate 89% of survey participants were either "Very Satisfied" or "Satisfied" with the built-in Activity app, while around 80% were satisfied with the heart rate sensor and hourly standup reminders and just over 75% were satisfied with the Workout app.


Jim Dalrymple of The Loop echoed similar sentiments in his Apple Watch review in June, in which he shared his personal story about losing 40 pounds using HealthKit and Apple Watch. After ten months of exercising, weight lifting and healthier eating decisions, Dalrymple lost four pant sizes and two shirt sizes, and the Apple Watch kept him motivated to reach his goals:
Apple Watch furthered my transformation. I can see on my wrist every minute of the day where I'm at for standing, movement, activity, calories and much more.

One minute please, Apple Watch says I need to stand up.

If Apple Watch says stand, I stand. I still don't know why. Maybe I just want to complete those rings every day and feel good about that. Maybe standing every hour really is good for me. I don't know, but I'll indulge this little device on my wrist and stand.
Making healthy lifestyle changes requires consistency, and Wristly found that many early adopters are still wearing the Apple Watch regularly. 86% of survey participants said they are still wearing the Apple Watch on a daily basis, while 12.3% wear it on most days, 1.3% go several days without wearing one and three respondents reported that they no longer wear the Apple Watch.
While the Apple Watch is certainly not the only wearable device motivating people to get in shape, the Move, Exercise and Stand rings, workout summaries, achievement badges, progress updates, personalized feedback and its other health and fitness features appear to have challenged early adopters in ways they did not expect.
Wristly is the largest independent Apple Watch research platform with an opt-in panel of around 1000 Apple Watch buyers. The research firm recently found the Apple Watch to have a 97% customer satisfaction rate, a number that Apple CEO Tim Cook cited during the company's recent third quarter earnings results conference call.