Apple Watch Now Available for Purchase in Apple Retail Stores
We reported this morning that Apple Watch shipments had begun arriving at Apple Stores in the United States ahead of the imminent launch of in-store availability, and it now appears that in-stores sales of the Apple Watch will indeed begin tomorrow, on June 17.
It's now after 10:00 a.m. on June 17 in some parts of Australia, and Apple Stores in the country are now offering the Apple Watch in-store after a reservation is made for an in-store pick-up online. In the Australian online Apple Store, when selecting a watch, there's now an option that says "Interested in buying in-store?" with a link that allows buyers to check reservation availability.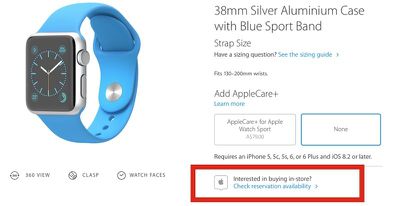 After choosing to select a reservation, there's a drop down menu that shows nearby Apple Stores, letting users see whether a particular Apple Watch is in stock. If a watch is in stock, the site displays a green checkmark and the next available reservation time. Making a reservation requires a phone number to be entered, allowing Apple to text a unique registration code that gives buyers 30 minutes to complete a reservation and schedule an in-store pick-up time.


Apple Watches that are not in stock are listed as unavailable for in-store pick-up, with Apple providing instructions to check stock levels again at 8:00 a.m. each morning, when inventory for the day is updated.


With the Apple Watch now available in-store in Australia, it's likely that all first wave launch countries will be seeing in-store sales starting as June 17 rolls around in each location. The reservation process will be the same as the process that's currently available in Australia, so potential Apple Watch buyers in the United States should check stock levels right at 6:00 a.m. local time. It's 1 a.m. in the U.K. and the online U.K. reservation page is live, suggesting we'll see the U.S. site up and running at around midnight on June 17. The U.K. site says that the first reservations will be available beginning at 6:00 in the morning.
Stock levels of each watch remain unclear, but in Australia many stores appear to have a mix of Sport and Stainless Steel Apple Watches available. Many of the more limited Apple Watches, including those in Space Gray and Space Black, are not currently available, nor are those with limited bands like the Modern Buckle and the Link Bracelet. It's likely that available stock in the United States will be similar.
(Thanks, Ian!)