Danny Boyle's upcoming Steve Jobs film has been selected as the Centerpiece of the 53rd New York Film Festival, which takes place from September 25 through October 11. The announcement was made by the Film Society of Lincoln Center, which hosts the NYFF each year.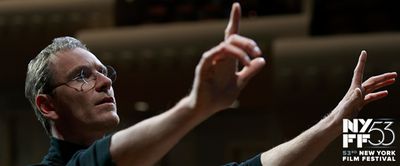 Steve Jobs will be screened for audiences at the festival on October 3, about a week before the movie gets a wide release on October 9. New York Film Festival Director and Selection Committee Chair Kent Jones voiced excitement for the Aaron Sorkin-penned movie's Centerpiece selection at this year's NYFF, a position held in past years by movies like No Country For Old Men and Inherent Vice.

"You hear that a bio of Steve Jobs is being produced, and of course you see multiple possible movies in your head . . . but not this one. Steve Jobs is dramatically concentrated, yet beautifully expansive; it's extremely sharp; it's wildly entertaining, and the actors just soar—you can feel their joy as they bite into their material."
The 17-day film festival previously announced that its opening and closing night films will be Robert Zemeckis's The Walk and Don Cheadle's Miles Ahead, respectively. Tickets to the festival aren't exactly open to the public at large, but those interested can sign up to become a Film Society member, and provide a small donation, to receive "exclusive benefits" like early ticket access to NYFF screenings and events ahead of the general public.
These benefits reduce the cost of the festival to packages ranging between $300 and $1,250. There are also VIP passes available that begin at $5,000 and go up to as much as $20,000 to include multiple tickets, exclusive VIP seating, and exclusive NYFF53 commemorative items like the festival's official poster and a limited-edition tote bag.