iPhone's Force Touch Tech May Track Contact Area Instead of Pressure, New 4" Model Unlikely in 2015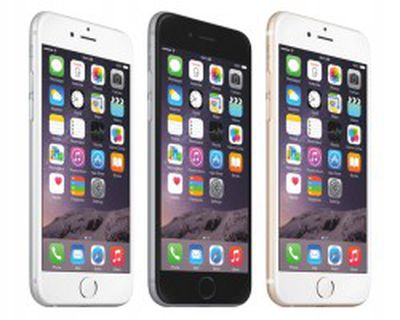 KGI Securities analyst Ming-Chi Kuo, who has a respectable track record at reporting on Apple's upcoming plans, issued a note to investors on Thursday that claims the next-generation iPhone will have a FPC-made capacitive Force Touch sensor under the backlight, laminated with metal shielding. Kuo adds that the change may be significant enough for Apple to call its next iPhone the "iPhone 7" instead of the so-called "iPhone 6s."
The analyst claims that the hardware design of Force Touch will be different than the technology used in the Apple Watch and 12-inch Retina MacBook. Instead of directly detecting the pressure applied by fingers, the new improved Force Touch hardware will monitor the contact area where a finger presses to determine how much pressure is being applied. The sensor will use capacitive technology and thin FPC material to save space.
"We believe that iPhone's Force Touch sensor doesn't directly detect the pressure applied by fingers. Instead, it monitors the contact area on which the finger touches the screen to decide how big the pressure is.

There are two possible structural designs for Force Touch from a technology viewpoint. The Force Touch sensor can either be placed between the cover lens and the In-cell touch panel or under the In-cell touch panel's backlight. In the first position, the technological challenge lies with how to produce the transparent Force Touch sensor; in the second position, the challenge is how to reduce signal interference from in-cell touch panel. Our understanding of the technology is that producing a transparent Force Touch sensor is more difficult, so the chances are the new iPhone this year will opt for the second position."
Kuo adds that Apple is likely to change the hardware design of Force Touch again in 2016 by removing the metal shielding to achieve a thinner form factor. He notes that the changes should improve the iPhone user experience, but will likely create uncertainty for Force Touch module suppliers TPK and GIS, as well as metal shielding suppliers Minebea, Hi-P and Jabil.


Kuo claims that Apple is still targeting 4.7-inch and 5.5-inch models for its next-generation iPhones, akin to the iPhone 6 and iPhone 6 Plus, and notes that a 4-inch model is unlikely to be released this year. KGI Securities estimates iPhone shipments will total 25 to 30 million units in the third quarter, helping drive momentum for Force Touch components within the supply chain.