Apple Maps Vehicles to Survey France, Italy and Sweden in August
Apple has announced that its fleet of vehicles collecting street-level mapping data in multiple countries will begin surveying France and Sweden throughout August. The vehicles will be driving through the Malmö and Stockholm metropolitan areas in Sweden and Île-de-France region of Paris, Hauts-de-Seine, Seine-Saint-Denis and Val-de-Marne in France.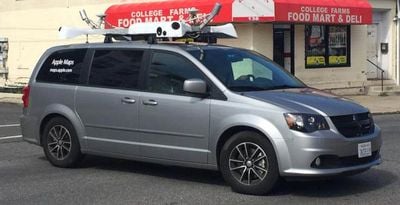 Apple Maps vehicles will also begin surveying Tennessee later in August, raising the total number of U.S. states that Apple has driven through to 30. Apple began collecting street-level mapping data in 13 more U.S. states this month, including Colorado, Idaho, Indiana, Kentucky, Maryland, Minnesota, Mississippi, New Mexico, Ohio, Oregon, Pennsylvania, South Dakota and Wyoming.
Apple confirmed in June that it is driving vehicles around the world to collect data to improve Apple Maps, and the mapping imagery is almost certainly being used to create a Google Maps "Street View" competitor. Apple Maps vehicles are also taking photos of businesses and storefronts in major metropolitan areas to replace current imagery provided by third-party sources such as Yelp.
Apple has posted a complete list of new areas in the United States, France, Ireland, Sweden and the United Kingdom it will be surveying throughout August on its Apple Maps vehicles website, including extended coverage of unmapped areas in California, Florida, Georgia, Hawaii, Louisiana, Massachusetts, Michigan, Missouri, Nevada, New Jersey, New York, Texas, Utah and Washington.
Update Jul 29: Apple Maps vehicles will also begin surveying Italy between August 1 and August 31, collecting street-level mapping data in Rome and the surrounding Lazio region.