Apple Maps Vehicles Surveying 13 More U.S. States Later This Month
Apple's fleet of vehicles collecting street-level mapping data in the United States will begin surveying 13 more U.S. states between July 15 and July 31, including Colorado, Idaho, Indiana, Kentucky, Maryland, Minnesota, Mississippi, New Mexico, Ohio, Oregon, Pennsylvania, South Dakota and Wyoming. Apple Maps vehicles have been spotted in 15 states to date and will have reached 28 states in total after this next wave.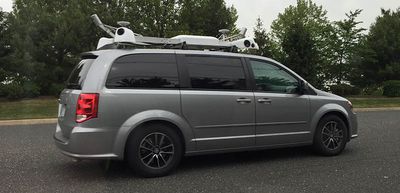 Apple Maps vehicle driving in Monroe Township, New Jersey in May 2015
Apple confirmed last month that it is
driving vehicles around the world
to collect data to improve Apple Maps, and the mapping imagery is almost certainly being used to create a Google Maps "Street View" competitor. Apple Maps vehicles are also taking photos of businesses and storefronts in major metropolitan areas to replace current imagery provided by third-party sources such as Yelp.
The cities and counties in the 13 U.S. states where Apple Maps vehicles will survey…
Colorado
Denver

Idaho
Ada County (Boise)

Indiana
Marion County (Indianapolis)

Kentucky
Jefferson County (Louisville)

Maryland
Baltimore

Minnesota
Hennepin County (Minneapolis), Ramsey County (St. Paul)

Missisippi
Harrison County (Gulfport)

New Mexico
Santa Fe

Ohio
Hamilton County (Cincinnati)

Oregon
Lane County (Eugene), Marion County (Salem)

Pennsylvania
Philadelphia

South Dakota
Pennington County (Rapid City)

Wyoming
Laramie County (Cheyenne)
Apple has posted a complete list of new areas in the United States, United Kingdom and Ireland where it will begin surveying throughout the last two-and-a-half weeks of July on its Apple Maps vehicles website. In addition to 12 new U.S. states, Apple will continue surveying unmapped areas in California, Florida, Louisiana, Massachusetts, Michigan, Missouri, New York, Texas, Utah and Washington.