Many Apple Music Listeners Seeing 503 iCloud Connection Errors
Apple Music appears to be experiencing some issues today, with some users reporting continual 503 errors for the last several hours. When attempting to play an Apple Music song via iTunes, an error message that says "The shared library 'Cloud Music Library' is not responding."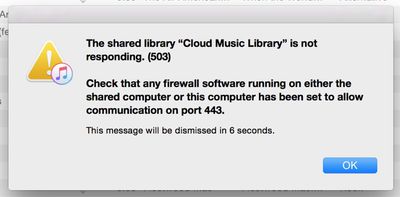 More annoying than debilitating, the error can be dismissed and music will play after another attempt to connect. The error also seems to pop up occasionally when no music is being played. Errors are being reported by MacRumors readers, redditors, and people on Apple's Support Communities.
Apple's System Status page is not reporting an outage at this time and the 503 error does not appear to be affecting all users. It is not clear what is causing the issue or when it will be fixed by Apple.
Since its June 30 debut, Apple Music has experienced a few outages, including an hour-long Beats 1 radio outage on launch day.