Barclays Anticipating 'Imminent' Support for Apple Pay in United Kingdom
MacRumors has learned that a high-level executive at Barclays, one of the largest banks in the United Kingdom, anticipates "imminent" support of Apple Pay in the country. Apple Pay in the U.K. is expected to go live on Tuesday, although it remains unclear if Barclays will be a first wave launch partner because of its delayed negotiations with Apple about the mobile payments service.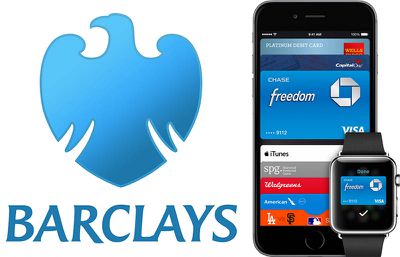 Apple confirmed at WWDC last month that Apple Pay will be available in the U.K. in July, but stopped short of providing a specific launch date. Recently released employee training documents have suggested the launch could come next week, on July 14, and some Santander customers were able to add their cards to Passbook for use with Apple Pay and make purchases ahead of that date.
Barclays was notably absent from Apple's list of banks that will support Apple Pay in the U.K. at launch or soon after, which presently includes HSBC, Lloyds Bank, Bank of Scotland, Royal Bank of Scotland, First Direct, Halifax, M&S Bank, MBNA, NatWest, Nationwide, Santander, TSB and Ulster Bank. The bank's subsidiary Barclaycard has offered an Apple Rewards Visa Card for several years.
Barclaycard recently expanded its "bPay" lineup of wearable solutions for contactless payments to include a wristband, key fob and sticker, leading to speculation that Barclays may be electing to use its own mobile payments services as opposed to Apple Pay, similar to how some retailers maintained exclusivity to the CurrentC platform last year. Today's confirmation, however, indicates otherwise.