Spotify Encourages Customers to Cancel App Store Subscription, Resubscribe via Web to Save $3
Spotify is sending emails to its customers encouraging them to stop paying for the Spotify music service through Apple's App Store, reports The Verge. The email informs customers they can save $3 per month on their Spotify fees by canceling their App Store Spotify subscription and resubscribing through the Spotify website.
Spotify subscriptions that people signed up for using the App Store are priced at $12.99 to account for the 30 percent fee that Apple collects for all app and subscription revenue routed through the App Store. The same service is priced at $9.99 through Spotify's website.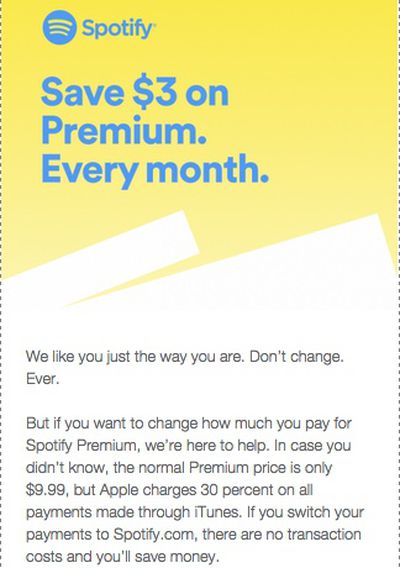 Customers who subscribe to Spotify through the App Store might mistakenly think that Spotify is more expensive than Apple's new streaming service, Apple Music, which is also priced at $9.99 per month. That's true, but only when the service is purchased via the App Store.
Spotify's emails are accompanied by a step-by-step tutorial that walks customers through the process of turning off auto-renew on their App Store subscriptions and then instructs them to wait for the service to run out before resubscribing to the Spotify service on the web.
Spotify continues to be the dominant on-demand streaming service in the music industry with 75 million active users and 20 million paid subscribers, but it is unclear what impact Apple Music will have on the company's business.