Apple Releases iTunes 12.2 With Apple Music and Beats 1 Support
Apple today released iTunes 12.2 for OS X Yosemite users, introducing desktop support for the new Apple Music service. Launched today as part of iOS 8.4, Apple Music lets iTunes users to listen to on-demand music, create playlists, find music suitable for every activity, and more. Apple Music is also accompanied by Apple Music Connect, Apple's new artist-centric social network, and the Beats 1 24/7 live worldwide radio station.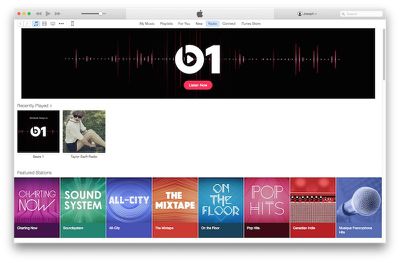 iTunes 12.2 can be downloaded immediately through the Software Update mechanism in the Mac App Store. Apple has also released a new version of iTunes 12.2 for Windows users.
This update includes:

For You. Get playlist and album recommendations you'll love, selected just for you based on your musical tastes. The more you listen, the better For You gets.

New. Discover the best new music, handpicked by our music editors. Explore mixes created just for activities like exercising, or find great handcrafted playlists in a wide variety of genres. With Apple Music, you'll always have the perfect soundtrack for any occasion.

Connect. A single place to connect with your favorite artists. See thoughts, photos, music, and videos shared from your favorite artists. You can comment on or love anything an artist has posted, and the artist can respond to you directly.

Beats 1. Tune in to Beats 1, broadcast live from cities around the globe. Enjoy music, interviews, exclusive radio shows, and the best of what's going on in the world of music. Beats 1 -- worldwide and always on.

Apple Music Radio. Radio has been completely redesigned. Play from Featured Stations, where our music experts hand select every song you hear. Or, start a new station from any artist or song. In addition, it's now easy to quickly return to your favorite stations with Recently Played.

My Music. Find all your music in one place, including iTunes purchases, music you've imported from CD, and now songs from Apple Music.

iTunes Store. The iTunes Store is still the best place to buy your favorite music -- one song or album at a time.
Apple Music in iTunes 12.2 brings several new sections to the music portion of the app, including "For You," which displays recommended music that you might like based on preferences you've entered and past music you've listed to, and a "New" section that offers up new and trending music.

iTunes' new Apple Music "For You" section


There's also a section for Apple Music Connect, Apple's new artist-centric social network. With Connect, you can read status updates and see photos, videos, and more from your favorite artists. A radio section houses the Beats 1 radio station and other radio stations curated by music experts or based on various songs and artists.

Apple Music Connect in iTunes


iTunes 12.2 is the second major update to iTunes 12, which debuted alongside OS X Yosemite. iTunes 12.1, the previous major update, brought an iTunes widget for the Notification Center and performance improvements.
All iTunes users can access Apple Music for free for a three month trial period. After that time, an individual subscription can be purchased for $9.99 and a family subscription with support for up to 6 users can be purchased for $14.99. Beats 1 radio and existing iTunes Radio stations will continue to be available at no cost.