Leaked Photos of Next-Generation 'iPhone 6s' Show Only Minor Internal Differences
The next-generation iPhone, often referred to as the "iPhone 6s," will likely retain the same exterior design as the iPhone 6, based on purported images of the device's rear shell obtained by 9to5Mac. The report claims the rear shell is identical to the iPhone 6 on the outside, including the same thickness and width, with only minor internal differences.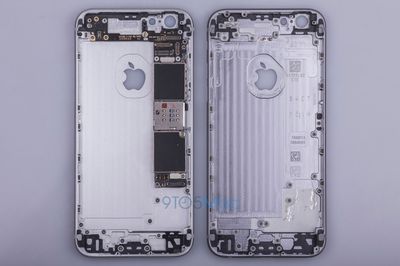 The leaked photos of the "iPhone 6s" reveal that the Lightning connector, speakers, microphones, headphone jack, volume rocker, mute button, sleep/wake button, SIM card slot, antenna lines and cutout for the rear-facing camera and LED flash are all identical to the iPhone 6, which is unsurprising given that "S" model iPhones have historically looked almost identical to the iPhone released one year prior.


While the exterior design on the "iPhone 6s" looks unchanged, the rear shell has a notably different internal mounting structure that suggests a new logic board and other components are incoming. In particular, the next-generation iPhone is rumored to include an A9 processor with 2GB of RAM, Force Touch, 7000 Series aluminum and improved 12-megapixel camera, among other changes.