New Radio Tab With Beats 1 Demo Appears on iOS 8.4 and iOS 9 Betas
With less than two weeks until the launch of Apple Music in over 100 countries, the latest signs of the streaming music service continue to appear in iOS 8.4 and iOS 9 betas. A number of users running the pre-release software versions have shared screenshots showing a new Radio tab in the Music app that displays a Beats 1 demo alongside a list of other stations and genres.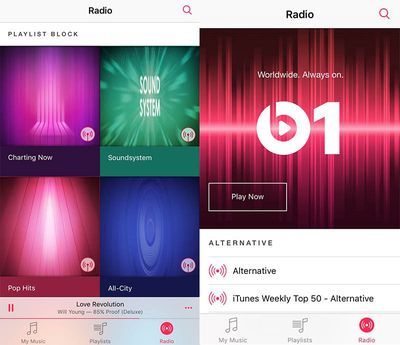 The new Radio tab and Beats 1 pre-recording by DJ Zane Lowe have gone live for users in the United States, Canada, Germany, Norway, United Kingdom and select other countries, although it remains unclear if all features of Apple Music will be available worldwide on June 30. The search feature in the Radio tab is working as of now for some users, but Beats 1 and other playlists cannot be listened to yet.
The curated playlists shown in the screenshots cover a wide selection of genres, including classic, indie, pop-hits, all-city, francophone hits and charting music. Searching for and tapping on an individual song brings you to the Apple Music subscription menu that began appearing earlier this month and has revealed possible international pricing of €9.99/£9.99 per month in Europe and as low as $2-$3 per month in some countries.

Apple Music subscription menu added to iOS 8.4 beta earlier this month
Apple Music was
announced last week
as an all-in-one streaming music service, live global radio station and social platform for artists to connect with fans. The subscription-based service will be available June 30 for $9.99 per month after a three-month free trial period for iPhone, iPad, iPod touch, Mac and PC. Apple TV and Android versions of the service will be available in the fall.