GarageBand for Mac Gaining New Synths and Features on June 30
Apple has updated its GarageBand for Mac website to confirm that the music creation software will be updated with new features on June 30 alongside the launch of Apple Music, as noted by Macworld editor Kirk McElhearn on his personal blog Kirkville. GarageBand will gain new synth sounds and the software's built-in recording and editing features will be improved.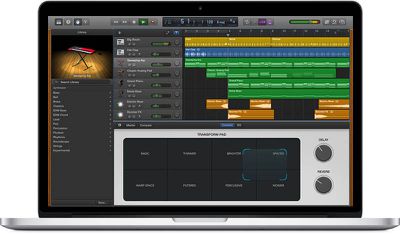 Apple will be adding 100 shape-shifting EDM‑ and Hip Hop‑inspired synth sounds to GarageBand that each feature the Transform Pad Smart Control for morphing and tweaking sounds to your personal liking. The new controls are very similar to the Alchemy software that Apple acquired through its recent purchase of Camel Audio, known for its range of plug-ins, synthesizers, effects and sound libraries.
Some of the new synths are demoed on the GarageBand website, including Sweeping Arp, Droplets, Bright Punchy Synth, Pumping Synth Waves and Epic Hook Synth. Apple further outlines that GarageBand's software instrument Smart Controls and Piano Roll Editor will be improved, allowing changes to be captured in real time and fine-tuning of music afterwards.
"Capture your changes in real time by adjusting any of your software instruments' Smart Controls while recording a performance," reads a caption on the GarageBand website. "You can also fine‑tune your music later in the Piano Roll Editor." A footnote lists the new features as available on June 30 in the United States and as "coming soon" in other countries, consistent with the Apple Music website.
It is possible that Apple may also add a way for GarageBand users to upload new music to Apple Music Connect, a social platform that will enable artists to connect with fans. Apple hopes that Apple Music Connect will help not only well-known musicians, but also unsigned artists, to more easily promote their music and engage with their fans through one centralized platform.