Apple Acquires Popular Instrument and Effect Plug-In Maker Camel Audio [Updated]
Apple appears to have acquired popular music plug-in and effect maker Camel Audio, based on information found on corporate registry site Companies House [PDF]. Camel Audio's address has been updated to 100 New Bridge Street, which is Apple's London address, and the company's sole director is now listed as Apple lawyer Heather Joy Morrison, suggesting the company is in the possession of Apple.
Camel Audio is known for its range of plug-ins, synthesizers, effects, and sound libraries, which were available via the company's Alchemy software. Previously available for $249, Alchemy included more than 1000 sounds, 5.5GB worth of samples, a powerful additive resynthesis engine, spectral resynthesis, a virtual analog synthesizer, and more. Its powerful engine was highly useful to those who liked to create and manipulate audio for unique sounds.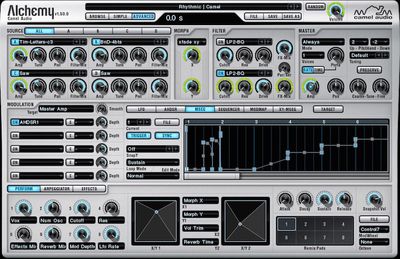 Camel Audio first shut its doors on January 8, 2015, removing all access to its software from its website. At the time, the company did not divulge why it had suddenly ceased selling its content, but Camel Audio fans speculated about a potential takeover.
We would like to thank you for the support we've received over the years in our efforts to create instruments and effects plug-ins and sound libraries. Camel Audio's plug-ins, Alchemy Mobile IAPs and sound libraries are no longer available for purchase.

We will continue to provide downloads of your previous purchases and email support until July 7, 2015. We recommend you download all of your purchases and back them up so that you can continue to use them (Instructions: How to Download and Backup Your Products).
It is not known what Apple plans to do with Camel Audio, but it's possible the company's technology could be incorporated into a future version of Logic Pro X, Apple's software designed for professional musicians, or GarageBand.
(Thanks, Sepp!)
Update 2/24 12:33 PM PT: The Loop's Jim Dalrymple contacted Apple for a comment on the possible purchase of Camel Audio, and the company gave him its standard statement on acquisitions: "Apple buys smaller technology companies from time to time, and we generally do not discuss our purpose or plans."