Eddy Cue and Jimmy Iovine Talk Apple Music in Series of Interviews
Following yesterday's debut of Apple Music, Jimmy Iovine and iTunes Chief Eddy Cue sat down with Billboard to discuss the new service and app, which combine on-demand streaming music with 24/7 radio and a social networking platform where artists can interact with fans.
According to Cue, the $9.99 individual price point for Apple Music wasn't a sticking point for the company as some earlier reports suggested, but the company was invested in negotiating a reasonable family subscription price. Apple Music lets up to 6 family members share an account for $14.99, a price point that Cue says will get entire families on board with the service.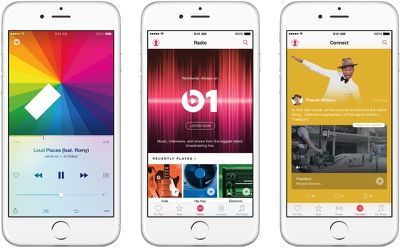 I think the cost of an album for a month of subscription is fair. Could you argue, $7.99 or $8.99? Who cares. I think where subscription is missing the boat is on the family -- you have a spouse, boyfriend, girlfriend kids ... the concept of signing up for these individual subscription plans multiple times is just not going to happen so we spent a lot of time with the labels to convince them that the real opportunity here is to get the whole family. With that, all boats rise.
On the subject of streaming music cannibalizing iTunes downloads, Cue says he expects some of the customer base to subscribe instead of buying music, but he believes downloads will "go on for a long, long time." "There are lots of people who are very happy downloading," he said. "And I think they'll continue to."
Explaining the reasoning behind a 24-hour human-curated radio station, Iovine explained that over the past 15 years, radio's become manufactured, something he'd like to change. "It's either genre-based or beat-driven or research-driven," he said. "So I said, let's build something that's got none of that that just plays music because it's great."
Cue and Iovine also did interviews with The Wall Street Journal and The Guardian, sharing much of the same information, but in the latter interview, the duo also spoke on Apple Connect, the social networking component of Apple Music. The point of Apple Connect and Apple Music in general, said Cue, was to give artists and labels control over content sharing.
"Our viewpoint was very simple: let the artist and label control it. They can put it up on Connect for free if they want to, or they can put it up behind the [subscription] paywall, or they can make it available on the iTunes Store for sale. They're in control of their music and how they want to distribute it," says Cue.
Iovine added commentary suggesting a music service needs to be "a win for everybody." "We wanted to give artists a place where there's a rhyme and a reason," he said. "Where there's a payoff! And not just a financial payoff, but an emotional payoff. A creative payoff."
Apple Music, with its on-demand streaming service, Beats 1 radio station, and Apple Connect platform, will officially launch on June 30, as part of the iOS 8.4 update. As previously mentioned, it will be priced at $9.99 for individuals and $14.99 for families. Existing Beats subscribers will be able to transition their subscriptions to Apple Music.