Apple today announced a boost to performance coming to users with OS X El Capitan in the form of Metal, previously available only for iOS. The company promises the inclusion of Apple's breakthrough graphics technology into El Capitan will boost system-wide performance and battery life while simultaneously allowing games and graphics-intensive apps to "tap into the full power" of Mac graphics processors.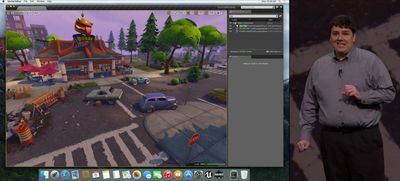 "OS X delivers unparalleled integration between Mac hardware, iOS devices, apps and online services, and has helped Mac sales outpace the PC industry every year for the last decade," said Craig Federighi, Apple's senior vice president of Software Engineering. "Customers loved last year's landmark OS X Yosemite release and made it the fastest-adopted PC operating system ever. With El Capitan, we're further refining the Mac experience with enhancements to window management, Spotlight and built-in apps, and improving performance so everyday activities — from launching apps to accessing email — are faster and more responsive."
Showcasing Epic's forthcoming game Fortnite, a few developers from the well-known game studio showcased how the graphics engine will be perfect for high performance games, combining the computing power of OpenCL and graphics power of OpenGL into new API that does both. With Metal, Apple machines will be able to accelerate Core Animation and Core Graphics, boosting system-level rendering by up to 50 percent, and efficiency by up to 40 percent. Specifically for higher-end games, however, Metal will take full advantage of a Mac's CPU and GPU, delivering "up to ten times faster draw cell performance," for a richer gaming experience.
Apple also noted that when working with Adobe, the developers were able to deliver up to an 8x improvement in rendering when using After Effects. Other than Epic and Adobe, companies like Blizzard, Feral, Foundry, Autodesk, and Aspyr were all mentioned in today's keynote as future adopters of Metal.