2015 Apple Design Award Winners Announced: Fantastical 2, Workflow, Crossy Road, and More
Following today's Worldwide Developers keynote, Apple held an event to announce the winners of its prestigious Apple Design Awards. Apple's Design Awards are handed out each year and highlight a selection of the year's best apps available on iOS and Mac, honoring all kinds of apps from utilities to games.
Apple created its design awards to recognize high-quality apps that combine design and technology in creative, compelling, and powerful ways. Along with significant recognition and a trophy, Apple gives its Design Award winners a selection of Apple products each year.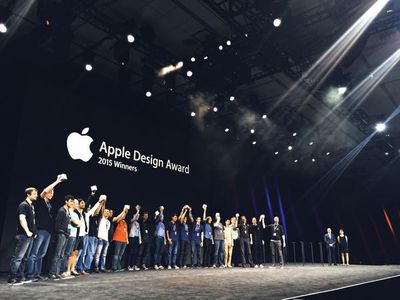 This year's winners include popular calendar app Fantastical 2, personal automation tool Workflow, and stock trading app Robinhood. Games recognized included Shadowmatic and Crossy Road.
iOS and Mac
- Shadowmatic [iOS]
- Robinhood [iOS]
- Crossy Road [iOS]
- Workflow [iOS]
- Does Not Commute [iOS]
- Vainglory [iOS]
- Pacemaker [iOS]
- Metamorphabet [iOS]
- Fantastical 2 [Mac]
- Affinity Designer [Mac]
Student Winners
- Jump-O [iOS]
- Elementary Minute [iOS]
2014 winners of the Apple Design Awards included Threes!, Leo's Fortune, Blek, and Monument Valley. 2013 winners included Letterpress, Yahoo! Weather, and Evernote.