2014 Apple Design Award Winners Announced: Threes, Sky Guide and Monument Valley Among Winners
At an event at WWDC this evening, Apple announced the winners of its prestigious Apple Design Awards, highlighting an array of apps from utilities to games on both iOS and the Mac. Apple's Design Awards were created to recognize apps that combine design and technology in creative, compelling and powerful ways.
Along with significant recognition, Apple gives winners one of nearly every product it makes, including a new Mac Pro.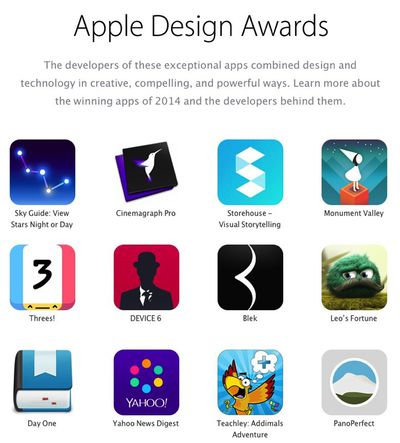 iOS and Mac
- Threes [iOS]
- Leo's Fortune [iOS]
- Blek [iOS]
- Yahoo! News Digest [iPhone]
- Device 6 [iOS]
- Storehouse: Visual Storytelling [iPad]
- Sky Guide [iOS]
- Monument Valley [iOS]
- Day One [Mac]
- Cinemagraph Pro [Mac]
Student Winners
- PanoPerfect [iOS]
- Addimal Adventure [iPad]
2013 winners of the Apple Design Awards included Letterpress, Yahoo! Weather and Evernote. In 2012, winners included Jetpack Joyride, Paper and Sketch.
Thanks Lindsey!