Apple Shifts to Editorially Curated Lists on App Store
Apple has quietly changed the way it promotes new and popular apps on the App Store, shifting from algorithmically generated lists to editorially curated content last month. TechCrunch reports that the "Games" section, for example, no longer has "New," "What's Hot," or "All iPhone (Free & Paid)" categories, which have been replaced with editor curated lists such as "Best New Games" and "More Games You Might Like," the latter based on a customer's purchase history.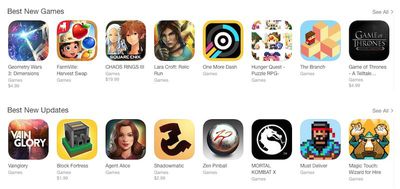 "What's also notable about the changes is that this represents the first time the Games' subcategory pages (e.g., Action, Adventure, Racing, Trivia, etc.) have included editorially created lists," reports TechCrunch. "These pages now have their own banner art at the top as well in order to better highlight the best new games within those sections. Within each subcategory page, consumers can browse editorial collections including 'Best New Games,' 'All-Time Greats,' 'Free,' and 'Pay Once & Play.'"
The move towards editorial curation was expected given the multiple job listings that Apple has posted for App Store and iTunes editors in recent months, including one specifically for the games section.
"This position is responsible for the discovery, selection, and promotion of games on the Apple App Stores. Working under the direction of the Editorial Manager for Games, they are tasked with ensuring all games selected for promotion are played and scrutinized to the highest level of standards," the job description for an "Editor, Games, App Store" position posted in late April reads.
The report claims that some app developers have seen between 30% to 90% fewer organic app downloads since the changes were made, although the move away from automatically generated app lists is not expected to negatively impact most developers. In fact, editorial curation should help developers with truly useful apps gain some well-deserved exposure on the App Store, rather than clone or rip-off apps that sometimes slipped through Apple's old automated process.
Following the surging popularity and subsequent removal of Flappy Bird from the App Store a few years ago, for example, a number of developers were quick to release copycat versions of the app with similar app icons, titles, graphics and gameplay. At any given time, at least a few of those apps were often undeservingly featured under the algorithmically generated lists on the App Store such as "New" or "What's Hot" based on total downloads and other factors.
There are over 1,400,000 apps available on the App Store for iPhone, iPad and iPod.