Apple Continues to Provide Top-Rated Tech Support on Strength of Genius Bar
Apple had the highest overall customer satisfaction for tech support among more than 3,200 computer owners surveyed by Consumer Reports, unsurprising given the company has been top-rated for tech support since the not-for-profit organization first surveyed customers about the topic in 2007. Apple has also routinely topped multiple J.D. Power and Associates studies for customer satisfaction over the past decade.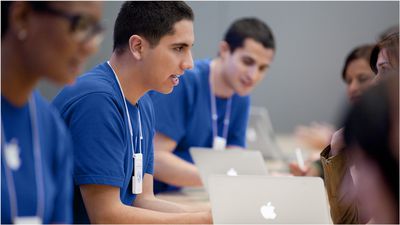 Apple earned high marks for the Genius Bar located at the back of most Apple retail stores, where customers can book an appointment to receive face-to-face technical support and troubleshooting for iPhone, iPad, Mac and several other Apple products and services. Consumer Reports praises the Genius Bar's free lifetime support as a differentiating factor over similar services, which generally require paying for help.
Windows-based PC makers did not receive the same accolades for tech support among survey participants:
"The help desks at Windows PC companies often didn't live up to that name. For four of the six PC brands in the survey, tech support solved only half of the problems consumers brought to them. Even the best of them—Lenovo and Dell—came through just 61 percent of the time."
Consumer Reports found that most Windows-based PC users were most satisfied by phoning tech support rather than seeking online help through web, chat or email support. Best Buy's Geek Squad and Staples' EasyTech services were found to be a step behind the Genius Bar, given that Apple serves as both the retailer and manufacturer and is subsequently more knowledgable about its own products and support information.
Apple provides 90 days of complimentary phone and online chat support that can be extended for up to two years with an AppleCare+ Protection Plan for iPhone, iPad, Mac, Apple Watch, Apple TV and other products. AppleCare+ also protects against up to two incidents of accidental damage with an applicable service charge, such as a cracked screen from dropping the device or water damage.