Apple reclaimed its spot as the highest ranked tablet manufacturer in J.D. Power's latest U.S. tablet customer satisfaction study. Apple earned a 5-star rating and scored 830 on a 1,000 point scale, edging out Samsung, which scored a second place 822.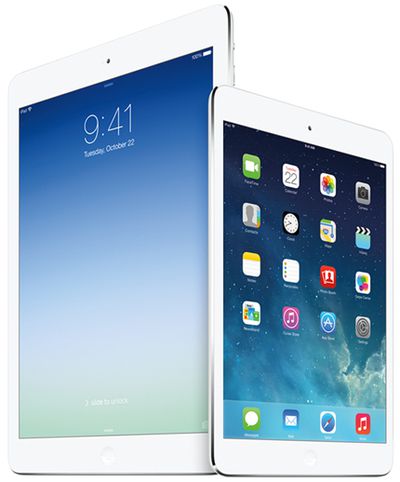 The survey of 2,513 tablet owners found that Apple led its competitors in four of the five measured categories, including performance, ease of operation, features and styling and design. Apple trailed only in cost, which isn't surprising given the starting $299 price tag of Apple's iPad lineup. Number two Samsung ranked above-average in features, styling and design, and cost.
All is not rosy in the tablet market, however, with overall satisfaction among tablet owners on the decline, dropping 18 points to 835 in 2014 from a high of 853 in 2012. Ease of operation was the feature that showed the largest drop in satisfaction, with tablets taking longer to setup and becoming more complicated to use.

"Since the inaugural U.S. Tablet Satisfaction Study in 2012, a number of new tablet OEMs have entered the U.S. marketplace, differentiating themselves to satisfy a growing interest in owning a tablet," said Kirk Parsons, senior director of telecommunications services at J.D. Power. "Price has significantly impacted the marketplace. The average purchase price continues to drop and consumer expectations of tablet performance and features are different than they were for past products. Subsequently, overall satisfaction has declined, especially with ease of operation, as navigation features and functions have changed."


Not surprisingly, the most important feature cited by consumers when buying a tablet was cost, followed by features and brand reputation. Brand recognition is becoming increasingly important to consumers, beating out both manufacturer websites and personal recommendations as the reasons why they select a particular brand.