Local news affiliate ABC 15 Arizona is reporting that Apple's facility in Mesa, Arizona, which it acquired through its ill-fated partnership with GT Advanced last year, caught fire this afternoon. While the second-alarm fire has since been extinguished on the rooftop, which is equipped with multiple solar panels, local firefighters and emergency crews remain on the scene and authorities are investigating the cause of the blaze.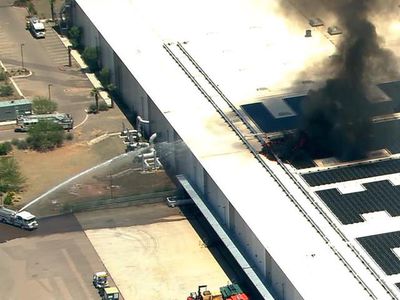 Apple confirmed in February that it plans to repurpose the GT Advanced facility as a $2 billion data center. The data center will reportedly act as a "global command center" for Apple's global data network. Mesa fire crews confirmed that the fire was located near Elliot and Signal Butte Roads in east Mesa, coinciding with where the GT Advanced facility is situated.
Update 12:20 PM Pacific: ABC 15 reports that fire crews from Mesa, Gilbert and Superstition Fire worked together to extinguish the fire within 35 minutes, and there are no reports of any injuries. The local news affiliate says the fire appears to have originated on the solar panels on the roof, and does not appear to have spread inside the building.