Nintendo's First Smartphone Game Due This Year, 5 Planned by March 2017
In Nintendo's financial results briefing posted today, which relays the company's past fiscal year ending in March 2015 and looks ahead to the future, Nintendo president Satoru Iwata provided a few more details regarding the company's future release plans with mobile gaming partner DeNA.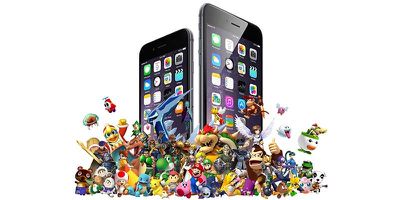 Essentially, the first game in the lineup will launch "by the end of this calendar year," with the current long-term plan to release five games in total by the end of the company's next fiscal year ending in March of 2017, just under two years away. Iwata promises that while that estimation for a release schedule seems low, the company hopes to retain its well-known degree of polish and customer satisfaction when transitioning to mobile, and taking a quality over quantity approach is its way of doing that.

You may think it is a small number, but when we aim to make each title a hit, and because we want to thoroughly operate every one of them for a significant amount of time after their releases, this is not a small number at all and should demonstrate our serious commitment to the smart device business.
During the briefing, Iwata also went further into detail regarding the actual strategy for creating games on a mobile device, such as an iPhone and iPad. While the initial announcement of the deal with DeNA had fans excited, Nintendo was quick to specify that the experiences provided on mobile wouldn't simply be ports of existing franchises and would be more tailored for a smaller, bite-sized experience.


Although that dashed most fan hopes for full-fledged Pokemon, The Legend of Zelda, and Animal Crossing experiences on the iPhone, it does provide hope that the sometimes fumbling company is at least aware of what makes mobile games work in the first place.

As we confirmed on March 17, all of our IP can be considered for a smart device game. On the other hand, since the game business on smart devices is already severely competitive, even with highly popular IP, the odds of success are quite low if consumers cannot appreciate the quality of a game.

Also, if we were simply to port software that already has a track record on a dedicated game system, it would not match the play styles of smart devices, and the appropriate business models are different between the two, so we would not anticipate a great result. If we did not aim to achieve a significant result, it would be meaningless for us to do it at all. Accordingly, we are going to carefully select appropriate IP and titles for our smart device deployment.
Iwata last mentions the company's hope to "expand this business," in regards to the mobile games, to global markets so more and more fans will have a chance to experience Nintendo games on mobile. "We are aiming to make this one of the pillars of Nintendo's revenue structure," Iwata said.
Since the deal with DeNA, the company has begun slowly relinquishing its stranglehold over its precious characters and IPs, after first being burned by various motion picture and CD-i partnerships in the past. Most recently, this week Nintendo announced a partnership with Universal to include the former company's popular characters as various attractions and locations in a theme park expansion of the latter's well-established park experiences.