'Redacted' Hits Number 8 Spot in Mac App Store With Just $302 in First-Day Profit
App developer Sam Soffes today published a blog post detailing the early monetary performance of his new app Redacted [Direct Link], which allows users to easily obscure sensitive information on personal photos.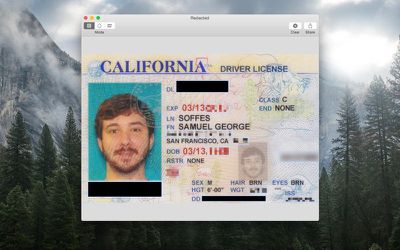 Screenshot of Redacted's image obscuring features


After launching the app earlier this week, the $4.99 Redacted app quickly broke into the top paid app lists on the U.S. Mac App Store. Specifically, by the end of its launch day on May 5, Redacted was eighth in overall paid apps and first in top paid graphics apps. After some friends began questioning him about his expected profit, Soffes realized he hadn't really even begun to think about the possible profit the photo-obscuring app would rake in for him.
Yesterday, Soffes tweeted out a question, asking his followers to guess how much profit the app received in its first day on the market. While the guesses averaged $12,460.67, Soffes revealed his app had achieved just 87 paid downloads, earning him a mere $302 worldwide for the eighth top paid app in the U.S. Mac App Store.

There were 37 guesses. I threw out the lowest and highest guesses which were both hilarious. The average guess was $12,460.67. 7 of those units were promo codes I sent out. Only 59 of those units were in the US. It's pretty nuts that 59 sales is top paid on the Mac App Store in the US.
In response to Soffes' blog post, Dan Counsell, a developer of popular organizational app Clear, shared a few numbers on the app's profits over a single day. Counsell tweeted that Clear earned $453 the day before the tweet, noting the list app is third in productivity and fifteenth overall in the top paid app list for the United States.
The top paid ranking is a measure of download volume (with some tweaks to account for sales momentum), not profits, so developers of higher-priced Mac App Store apps are in some cases certainly doing better than Redacted. Even so, with a drop in sales following the launch surge, Redacted is currently the #81 top grossing app in the U.S. Mac App Store while sitting at the #19 spot in paid apps.
Towards the end of his blog post, Soffes mentions that he nearly decided to continue working on another indie app, Whiskey, in an attempt to make a living off of that app. "I'm glad I didn't," he states honestly. He now is employed at mobile payments solution Venmo as of early this week.