Microsoft Unveils New 'Edge' Browser to Replace Internet Explorer
Earlier this year, Microsoft debuted a new browser designed to succeed Internet Explorer. At the time, it was still under development with the code name Project Spartan, but at today's BUILD conference for developers, Microsoft shared additional details on the new browser and unveiled its name: Microsoft Edge.
According to Microsoft, the Edge name refers to being on the edge of consuming and creating. Microsoft is calling Edge "a browser built for doing," with a simple, no-frills design and access to tools for enhancing the browsing experience.
Edge has built-in note taking capabilities, letting users annotate, draw, and take notes right within the browser, and then share those website notes with friends. Microsoft says that Edge uses "blazing fast core technology," with more details available on the speed enhancements in the future.
Edge includes a distraction-free reading mode and a tab page for getting to frequently-used apps quickly. There's support for Microsoft's virtual assistant Cortana, a competitor to Apple's assistant, Siri. Cortana integration helps to build a user's home tab page, populating it with relevant content and making suggestions on related sites to visit.
One of Microsoft's earlier BUILD announcements covered tools to bring Android and iOS apps to Windows 10, and similarly, the company has built support for Chrome and Firefox extensions into the Edge browser. These existing extensions will be able to be quickly repackaged and submitted to Microsoft's extension portal, giving Edge users a wealth of extensions to use shortly after the browser launches.
One of the Chrome-based extensions that Microsoft demonstrated on stage was the Reddit Enhancement Suite, a browser extension for Chrome, Firefox, and Safari that improves the browsing experience on reddit. The RES extension took "virtually no work" to take it from the Chrome Extension store to Edge.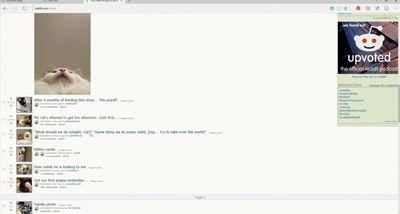 Edge browser running Reddit Enhancement Suite from modified Chrome extension


Microsoft Edge is a next-generation browser designed to replace Internet Explorer, but Internet Explorer will stick around as its used by many of Microsoft's Enterprise customers. The Microsoft Edge browser will be built into Microsoft's upcoming Windows 10 update.