Microsoft Announces Cross-Platform Add-Ins for Office Apps, Plans to Bring iOS Apps to Windows 10
Microsoft held its annual BUILD conference for developers this morning, where it made several announcements that may be of interest to Mac and iOS users. First off, the company announced cross-platform add-ins that will deeply integrate third-party apps and services into multiple versions of Office, including Office for iOS.
Microsoft's add-ins (which can be thought of as plug-ins) will enable a range of third-party services to integrate with Office on Windows, iOS, Android, and presumably Mac when the new Office 2016 is released. For example, Uber might be built into Outlook, letting users call for rides directly from their calendar appointments. Another example shown on stage was PicHit, an app offering a photo marketplace within the PowerPoint app.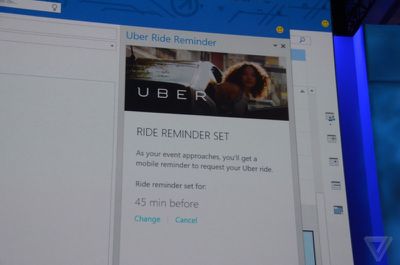 The implementation sounds similar to Apple's own use of app extensions, letting third-party apps interact with Microsoft's offerings in new ways, but with Microsoft's tools, add-ins created for one platform will work on all platforms. On stage, third-party apps integrated into Office were shown off on an iPad and an iPhone 6.
According to Microsoft CEO Satya Nadella, deep cross-platform app integration is aimed at preventing users from needing to jump from application to application to accomplish tasks. The company's vision is to make it easier to use Office apps and various services regardless of the device the software is being run on, turning Office into a platform.
Microsoft is also planning to make it easier for developers to bring their iOS and Android apps over to Windows 10, its upcoming cross-platform operating system, by releasing new tools. iOS developers will be able to compile Objective C code using Microsoft's Visual Studio to quickly create apps compatible with Windows 10.
On stage at the conference, Terry Myerson demonstrated an iPad app that had been converted to a Windows 10 app. Getting Android apps on Windows 10 is even easier, as Windows 10 includes "an Android subsystem" to support Java and C++ code Android apps are already built from. App availability has always been the major downside to Microsoft's Windows mobile devices, as they lag behind iOS and Android when it comes to the number of apps available.
The introduction of tools to make it simple to port existing apps over to Windows 10 could be a huge boon for Microsoft, growing its App Store exponentially in the coming months.
Microsoft's final Apple-related announcement was the introduction of a Mac version of Visual Studio Code, its former Windows-only coding app. According to Microsoft's site, the app is free and aimed at letting developers build and debug modern web and cloud applications.