USB-C in 12-Inch MacBook Adds Limitations but Opens Up Possibilities
Apple's newest MacBook is one of the first computers to take advantage of the USB Type-C specification, which was finalized in August of 2014. USB-C uses a small reversible connector that's similar in size to a Lightning connector, but slightly larger.
In addition to delivering power to the Apple MacBook (it's capable of delivering up to 100 watts at 20 volts), USB-C has a DisplayPort alternate mode for connecting monitors, cables, docking stations, and more, plus it supports USB 3.1 data transfers up to 5GBps (Apple is using Gen 1 USB 3.1) and it also has support for VGA and HDMI connections. It's able to deliver bi-directional power, meaning it lets the MacBook be charged and through the same port, it lets the MacBook charge other devices.


USB-C is an upgrade from USB-A, the standard USB ports that many of us are used to on our computers, and USB-B. USB-B is used by many of us in portable devices that take advantage of micro-USB, but it is also commonly found in peripherals like printers. In addition to its impressive data and power transfer rates, USB-C has the benefit of being easy to plug into devices, like the Lightning cable.
Apple's adoption of USB-C might seem like something of an annoyance because it requires users to buy expensive adapters and adjust to an all new connection, but it's actually a huge step forward for the company that opens up the possibility of a whole range of new Apple-compatible accessories and devices.


USB-C is the first non-proprietary charging system that Apple has introduced. MacBooks use MagSafe and iOS devices use Lightning connectors, both of which were designed by Apple, giving Apple strict control over how they're used.
Apple lets product developers incorporate Lightning connectors and ports through its MFi (Made for iPhone) certification program, but the company does not have a MagSafe licensing program and has not allowed hardware manufacturers to create products that use the MagSafe connection in MacBooks.
This forces manufacturers who create items like MacBook backup batteries to use the actual connectors from Apple's AC adapters, grafted onto their products. Apple has not looked kindly on this practice in the past, and has levied a lawsuit against at least one company using this method to create hardware for the MacBook.


With the USB-C port in the MacBook, Apple will not have control over the products that are developed for it, paving the way for a whole range of accessories that were not possible before, like backup batteries.
The future of USB-C is bright, but for early adopters, the USB-C experience might be somewhat frustrating because the notebook has a single USB-C port. Apple sells adapters, but the adapters only include one USB-C port, meaning it's not going to be possible for MacBook buyers to charge their devices and use a product like LaCie's new USB-C Porsche Design Mobile Drive at the same time using a USB-C port.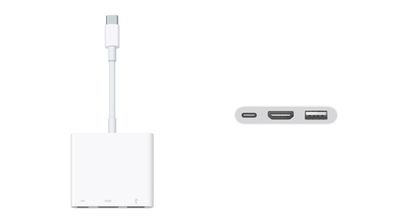 One of Apple's new USB-C adapters


Presumably manufacturers are already at work creating hubs that will include multiple USB-C ports for use with the myriad products that are going to use the new specification, but currently, someone wanting to use a USB-C storage drive would have to decide between charging and accessing data or using the older USB-A port for data transfers.
USB-C is a brand new technology, but with Apple embracing it, it won't be long before we see tons of companies racing to produce USB-C compatible products. Apple will also undoubtedly spur its competitors to adopt the standard as well. It may not be long before we're able to charge a whole range of our devices with a single cable, ending the days of having to carry around MagSafe chargers, USB cables, Micro-USB cables, Lightning cables, and more.