Discover Announces Apple Pay Support Beginning This Fall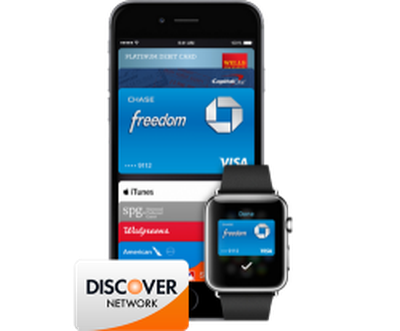 Discover announced on Monday that it will enable Apple Pay support for credit and debit cardholders at eligible financial institutions in the United States this fall. Discover will also support in-app purchases made using Apple Pay on compatible iPhones, iPads and Apple Watch.
Discover customers with an iPhone 6, iPhone 6 Plus, or iPhone 5 or newer paired with an Apple Watch will be able to add their credit and debit cards to the mobile payments service to make contactless payments at thousands of participating retailers and vendors throughout the United States. Discover cardholders will continue to receive current benefits, including Cashback Bonus and Freeze It security.
"As the mobile payments landscape matures, Discover remains committed to giving cardmembers secure options for using their cards and mobile devices," said Diane Offereins, Discover's president of payment services. "Discover's focus on simplicity and value for our cardmembers aligns well with the way Apple Pay makes purchases easy and convenient."
Apple Pay became available last October in the United States with support from several major credit card companies, including Visa, MasterCard and American Express, and it was reported last December that the mobile payments service supports cards that make up over 90% of purchase volume in the United States. With the addition of Discover, that figure will rise even further.