Apple Pay Now Supports Cards Representing 90% of U.S. Credit Card Purchase Volume
With the list of Apple Pay-supported companies growing more every week, Apple has revealed that the new mobile payments service now supports cards representing about 90 percent of the credit card purchase volume in the United States. This is up from the 80 percent figure cited at Apple Pay's launch just two months ago.
According to The New York Times, Apple Pay has proven popular with users as the rollout continues. Whole Foods saw more than 150,000 Apple Pay transactions in the first few days after release, and the service accounted for more than 50 percent of McDonald's tap-to-pay purchases in November.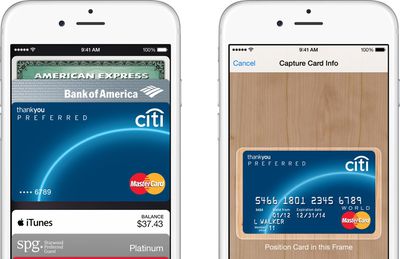 The news comes on the soft launch day of Apple Pay support at TD Bank in the U.S., adding to the growing list of banks supporting the e-payments solution. The U.S. subsidiary of the Canadian bank is just another in a long line of companies with high hopes that Apple's electronic payments solution will be the first widely adopted, according to industry analyst Patrick Moorhead.
"Retailers and payment companies see Apple Pay as the implementation that has the best chance at mass consumer adoption, which has eluded prior attempts," said Moorhead, president of Moor Insights & Strategy, a research firm. "They believe it will solve many of the problems they had before with electronic payments."
One of the newest retailers to support the service is Amway Center, the home of the Orlando Magic basketball team, which announced support for Apple Pay will launch officially this Friday. Chief Executive of the Orlando Magic, Alex Martins, remarked that long lines keep customers from buying food at concession stands. He has hopes that, "This, and technologies like Apple Pay, will speed up our service."