With most of the past few days covered in Apple Watch shipping news, the build-to-order version of the new 12-inch MacBook has flown slightly under the radar. But, this morning, Apple began updating customers who opted-in for the 1.3GHz model of the notebook with shipping dates almost two weeks earlier than initially expected.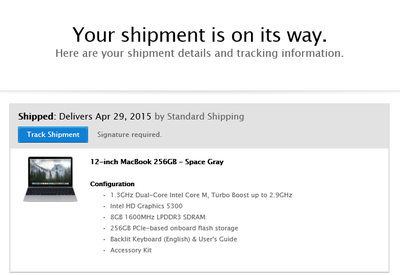 First given a vague 3-4 week shipping estimate by Apple, the 1.3GHz MacBook has now received a delivery estimate as early as the middle of next week for some customers in the United States. The build-to-order option took slightly longer to ship than the basic 1.1GHz and 1.2GHz models due to its custom upgrade processor parts.
Those two regular models of the notebook began shipping out to customers soon after its April 10 launch alongside the Apple Watch. Although many expected the new MacBook to be sold in Apple retail locations, the company opted to keep the 12-inch Retina device mostly to its online storefront for the time being.