Many Apple Stores Not Carrying Retina MacBook Stock on Launch Day
A significant number of users have turned to Twitter and other social networks to voice their frustration that Retina MacBook in-store stock and display models at many Apple Stores in the United States and other launch countries are nowhere to be found. MacRumors has independently confirmed that the Retina MacBook will be limited to online purchases in many locations around the world at launch.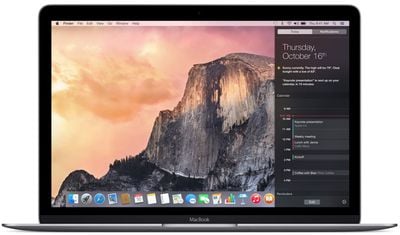 A spot check of several Apple Stores in the United States, Canada and United Kingdom resulted in us being given the same response about Retina MacBook stock being unavailable at each location, at least on launch day. April 10 is already an eventful day for Apple as
Apple Watch pre-orders
and in-store try-on appointments became available at 12:01 AM Pacific, so it is possible the MacBook is not a priority right now.
Retina MacBook shipping times also slipped especially quick out of the gate, with custom configured models available to ship in 3-4 weeks from the moment orders became available, and gold stock models following shortly thereafter. Apple's new 12-inch MacBook starts at $1,299 and features an ultra-thin design, one USB-C port, redesigned keyboard with an all-new butterfly mechanism, Force Touch trackpad, fanless architecture and all-day battery life.