New Retina MacBook Now Available to Order on Apple's Online Store
Along with accepting pre-orders for the Apple Watch, Apple has also begun accepting orders for the new 12-inch Retina MacBook through its online store. Orders are available through the website and through the Apple Store app.
Shipping estimates for most pre-configured MacBook models are currently at one to three days, while custom configurations will ship in three to four weeks. Shipping estimates for the high-end gold MacBook have slipped to three to four weeks.
The 12-inch Retina MacBook features Apple's latest technology, with an ultra thin chassis that's 0.31mm thick (a half-inch), a Retina display, a Force Touch trackpad that enables a range of new gestures, a thinner keyboard with larger keys stabilized by a new butterfly design, a single USB-C port, and a low-power Core M processor that lets it operate without a fan for silent performance.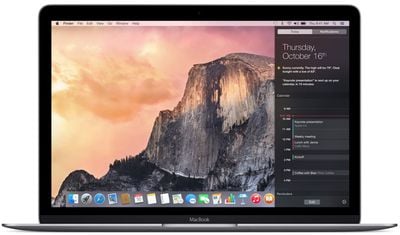 Reviews of the new MacBook came out on Thursday morning and are worth a read before purchasing the new MacBook. Many reviewers have compared it to the first-generation MacBook Air, praising its cutting-edge design while highlighting some of the performance compromises compared to the MacBook Air and the MacBook Pro.
The machine's Core M processor lags behind the more powerful Intel-based processors available in Apple's other notebooks, but it runs all modern apps (including those like Photoshop and Final Cut Pro). It is, however, noticeably slower, which may be a concern for users who use system intensive tasks on a regular basis. For day to day use, many reviewers found it more than adequate, but there was a general consensus suggesting that it's somewhat impractical in its current incarnation, given the price to performance ratio.
The Retina MacBook is available in three colors: Silver, Gold, and Space Gray. It's available in two configurations at two price points. The entry-level model ships with a 1.1GHz processor, 8GB of memory, Intel Graphics 5300 HD, and 256GB of flash storage for $1,299. The higher-end model includes a 1.2GHz processor, 8GB of memory, Intel Graphics 5300 HD, and 512GB of flash storage for $1,599.
Both models offer an optional processor upgrade, boosting the 1.1GHz processor to 1.2 or 1.3GHz, and boosting the 1.2GHz processor to 1.3GHz.