UPS Begins Confirming April 24 Apple Watch Pre-Order Delivery for Some Customers
Following a week of constant order status changes and general haziness on when customers would actually receive their Apple Watch orders, a few MacRumors users have confirmed this morning that they have received April 24 delivery estimates for their Apple Watch pre-orders.
In the forums, multiple mentions of an Apple distribution center in Mount Juliet, Tennessee have resulted in numerous users getting confirmed delivery dates for their Apple Watch orders this Friday, April 24. While mostly centered in the southern states like Tennessee, Arkansas, and Florida, a few outliers, like a few customers in Indiana, have also had the April delivery date confirmed.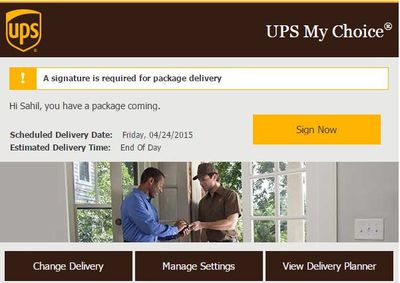 The news comes after a few Apple Watch pre-order customers began receiving UPS tracking numbers yesterday, thanks to the service's "My Choice" opt-in emails, which notify customers whenever a package is on its way to their house. On Monday, many people began being charged for their Apple Watch orders, seeing a shift from "Processing Items" to "Preparing for Shipment" for a majority of users.
Many of the early UPS shipping notifications had delivery estimates for earlier in the week, but these were understood to be inaccurate considering Apple's efforts to have all deliveries held until the official launch day. Apple's own order status pages are also still showing a broad "4/24-5/8" window for the first wave of orders, so tracking information pinpointing delivery for Friday will be a welcome reassurance for many customers.
With the Apple Watch launch stressing some of the company's customers out, yesterday Apple retail chief Angela Ahrendts was seen in a video updating Apple retail employees on the different approach for the Watch's launch, promising a "unique situation" and that the company's "blockbuster launches", or in-store launches, will continue in the future. With only two days to go until the official launch of the Apple Watch, many users should begin seeing status and date changes popping up on their accounts over the next few hours.