Adobe Lightroom Updated With HDR and Panorama Merge, Facial Recognition and Filter Brushes
Adobe today announced a major update to Lightroom CC (and the launch of the standalone Lightroom 6), its professional photo editing software for Mac users. The new update brings significant performance improvements and several new features like HDR merge, Panorama merge, facial recognition, improved slideshows, a filter brush, and more.
One of the most impressive new organizational features in the updated version of Lightroom is facial recognition, which lets Lightroom users organize their photos by subject for the first time, in addition to organizing with tags, flags, and star ratings. Once a face in a single photo is named, the software is able to find more images that feature that person for quick tagging by face. A new "People" view lets users sort photos by person.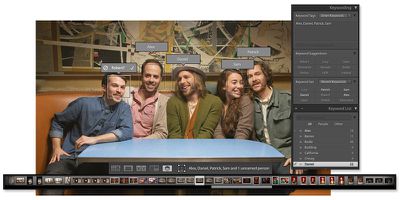 Panorama Merge, another new feature, lets photographers stitch together multiple images, including RAW and JPG files to create ultra high-quality panoramic shots. It has built in tools for automatically cropping non-matching edges and changing perspectives. With Lightroom's graphical performance improvements, even huge panorama files can be edited in real time with little lag.


With HDR Merge, it's possible to combine several different photos with different exposure settings into a single HDR image. Unlike other photo editing apps, Adobe's HDR Merge works directly with both JPG and RAW images. Because it works with RAW files, a high-quality HDR image can be created from as few as two photos. Other HDR options typically require more photos at different exposure levels to create a suitable image.


Lightroom's new filter brush, a popular request from Adobe customers, works with graduated and radial filter affects, letting a filter mask be reshaped with a brush tool so filter effects can be added and subtracted from specific parts of images for better precision. The last major feature update, which adds advanced slideshow tools, lets users put pan and zoom effects into their slideshows to add a motion effect. There's also a tool for syncing slideshows to multiple audio clips, and it's possible to add up to 10 songs to a slideshow.
Today's update to Lightroom CC may be of particular interest to Mac users who previously used the now-defunct Aperture photo editing software, as Apple no longer offers a professional-level photo editing app since discontinuing Aperture in favor of Photos for OS X. Lightroom has many professional-level features that are missing from the Photos for OS X app, and it also offers the same cross-platform syncing of all images with a Creative Cloud subscription. Adobe has promised to continue adding new features and more advanced tools to Lightroom in the future.
Adobe is also updating its Lightroom apps for the iPad and the iPhone, which connect to Lightroom CC and allow for photos and edits to be synced between all devices using Adobe's cloud service. The apps are gaining features like improved cropping tools, with the updated versions available for download today.
Lightroom CC is available through Adobe's Creative Cloud Photography plan, which bundles Photoshop and Lightroom together for $9.99 per month, or through Adobe's complete Creative Cloud plan, featuring all Adobe software for $49.99 per month.
Adobe is also selling the new Lightroom update on a standalone basis, branded as Lightroom 6 and priced at $149 (or $79 upgrade pricing). The standalone version of Lightroom does not include cloud integration with Adobe's mobile Lightroom apps and Lightroom on the web.
Lightroom for iPhone can be downloaded from the App Store for free. [Direct Link]
Lightroom for iPad can be downloaded from the App Store for free. [Direct Link]