Adobe 'Doubling Down' on Lightroom in Wake of Apple's Aperture Announcement
Following Apple's announcement that it plans to cease further development on its professional photo editing software, Aperture, Adobe has released a statement encouraging Aperture users to check out its Creative Cloud plan or its standalone Lightroom app, a longtime Aperture competitor. The company says it is committed to helping former Aperture and iPhoto customers transition to Lightroom.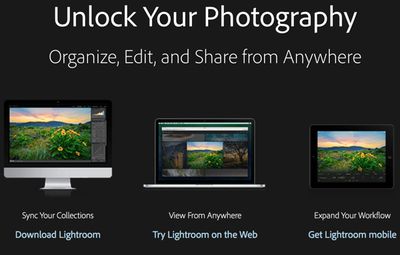 Put simply we're doubling down on our investments in Lightroom and the new Creative Cloud Photography plan and you can expect to see a rich roadmap of rapid innovation for desktop, web and device workflows in the coming weeks, months and years. We also continue to invest actively on the iOS and OSX platforms, and are committed to helping interested iPhoto and Aperture customers migrate to our rich solution across desktop, device and web workflows.
Known as Aperture's biggest competitor, Lightroom is another solution for professional photo editing. Adobe has a Creative Cloud subscription plan aimed specifically at photographers, offering access to both Photoshop and Lightroom for $9.99 per month. While this plan used to be temporary, Adobe recently made it a permanent addition to Creative Cloud. Adobe also offers access to its full suite of Creative Cloud apps, including Lightroom, for $49.99 per month.
Adobe has developed Lightroom mobile apps for both the iPhone and the iPad, both of which seamlessly connect to the desktop version of Lightroom, allowing users to edit and manage their library of photos on any device.
While both Aperture and Lightroom offer similar professional photo editing capabilities, Lightroom has enjoyed regular updates as part of Adobe's Creative Cloud, while Aperture has been falling behind for quite some time now. Lightroom received an update earlier this month, while Aperture was last updated in November of 2013.