Shazam, OneDrive, Porsche, FIFA 15, ESPN, JetBlue and More Apps Updated for Apple Watch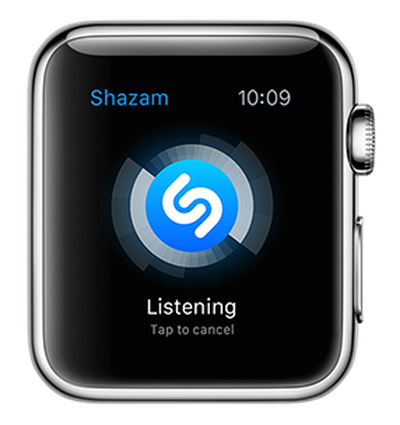 A number of notable apps have been updated with Apple Watch support to start off the week, including Shazam, Microsoft OneDrive, Porsche Car Connect, FIFA 15 Ultimate Team by EA SPORTS, Epicurious, Nick Jr, ESPN, Avea, JetBlue and Letterpad. The updates should be rolling out on the App Store today prior to the Apple Watch launch on April 24.
Shazam for Apple Watch will enable you to discover which artist, song and lyrics you are listening to from your wrist in seconds. You will also be able to see your past Shazams at a Glance with a simple swipe up gesture, turn on Auto Shazam to continue discovering music automatically and use Handoff on Apple Watch and iPhone to buy songs on iTunes, watch videos and more. Shazam is free on the App Store.
Microsoft recently released an update for the OneDrive app to view your photos and albums stored on the cloud storage service on an Apple Watch. You can view your most recent photos, delete photos you don't want to keep, find photos by tag and view your albums directly from your wrist using the latest version of the app. OneDrive is free on the App Store with tiered storage plans available.

Porsche Car Connect for Apple Watch (Image: WatchAware)
Porsche Car Connect
has been updated to allow remote display and control of your Porsche from an Apple Watch. The app, compatible with select 2014 models and later, provides safety notifications, journey statistics, vehicle status and a vehicle locator directly on the Apple Watch. Porsche Car Connect is
free on the App Store
and available for the new Panamera, 918 Spyder, Macan and Cayenne.
EA Sports has introduced new Apple Watch features for FIFA 15 Ultimate Team that help you assemble and manage the ultimate soccer team from your wrist. FIFA 15 Ultimate Team for Apple Watch lets you manage your top five player transfers and get instant game-related notifications. FIFA 15 Ultimate Team by EA SPORTS is free on the App Store with in-app purchases available.
Epicurious has introduced its smart kitchen timer app for Apple Watch. The app lets you choose from 40-plus ingredients from one of five categories — steak, vegetables, chicken and pork, seafood, and eggs — and the custom timer will tell you how long the food takes to cook. Epicurious will also give you cooking-related reminders and tips. The app is free on the App Store.
Nickelodeon updated
Nick Jr.
for the Apple Watch over the weekend, allowing iPhone users to manage their child's Nick Jr. screen time through a Bluetooth connection right from the watch. Nick Jr. is
free on the App Store
and features full TV episodes, videos and iconic Nickelodeon characters on the iOS version.


ESPN updated its universal iOS app with Apple Watch support today, providing fans of the NFL, MLB, NBA, NHL, NCAA, Nascar and other sports and leagues with real-time notifications on scoring plays and breaking news on the wrist. Apple originally listed ESPN as one of its featured Apple Watch apps on its website last month. ESPN is free on the App Store.

Elgato today launched one of the first Apple Watch apps that can control a piece of hardware. The updated version of the Avea app is built for Apple Watch and allows users to pick their favorite dynamic light moods right from their wrists. Elgato Avea is free on the App Store.
By raising your wrist you can see which Avea light mood is currently on. Tap the Glance to switch to the selection menu of scenes and solid colors. By applying a Force Touch, users can bring up a scene's settings. You can even program Avea's Wake-Up light directly on Apple Watch.
JetBlue also became the latest airline to update their app with Apple Watch support, alongside American Airlines, Delta, British Airways, Air Canada, WestJet, Qantas Airways, Ryanair and several others. JetBlue for Apple Watch provides flyers with flight statuses in Glances, travel countdowns and access to their smart mobile boarding pass on the wrist. JetBlue is free on the App Store.
As reported by our sister website
TouchArcade
this morning, game developer NimbleBit has released
Letterpad
with Apple Watch support. The word game consists of forming words relating to a particular topic from a set of 9 letter tiles, and allows you to use hints that reveal a letter of one of the words you're trying to find among the tiles. Letterpad is
free on the App Store
.