WWDC 2015 Lottery Ends, Winners Begin Receiving Confirmation Emails
Developer demand for Apple's annual Worldwide Developers Conference always exceeds ticket supply, so Apple holds a lottery to determine which developers will win the chance to go to the conference. This year, Apple accepted lottery entries from April 14 until today, April 17, at 10 a.m. Pacific Time.
Now that the lottery has ended, Apple has begun sending out emails to developers who were selected and has charged their credit cards the $1,599 ticket price. Developers who won are currently sharing their good fortune on Twitter after receiving order confirmations.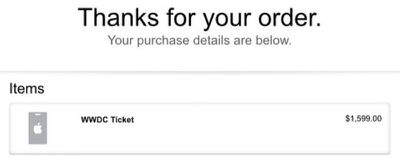 This year's Worldwide Developers Conference starts on June 8 and will run through June 12 at Moscone West in San Francisco. More than 1,500 Apple engineers will be on hand to host over 100 technical sessions and hands-on labs. The event is also likely to include a keynote to unveil new products, and it will include the annual Apple Design Awards.
At WWDC this year, Apple is expected to unveil the newest versions of iOS and OS X -- iOS 9 and OS X 10.11. There have also been rumors suggesting the event could be used to unveil a new television service, a revamped Apple TV set-top box, and a rebranded Beats music service.
Developers who are unable to attend or who do not win the ticket lottery will be able to watch several live streams of WWDC sessions that will cover a wide range of topics from the iPad and iPhone to the Apple Watch and MacBook, along with other Apple products and services.