Every day more and more companies announce Apple Watch versions of popular iOS apps. The trend continues today, with video and photo messaging app Glide confirming a companion app on Apple's new wearable will be available to its users when the Watch launches on April 24.
The Glide iPhone app allows users to send and receive live video messages from friends - up to five minutes long - even letting its users watch someone live as they record a Glide video, or catch up later if they missed anything.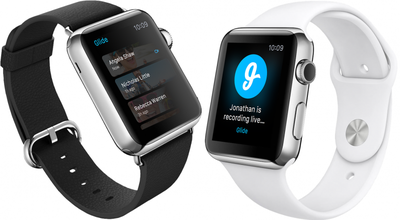 The Apple Watch version will act as a companion to its iOS counterpart, notifying users of live Glides, missed messages, and allow them to peruse the app and watch videos right on their wrist.
The app, like Apple's own Messages, will also allow users to send truncated text, emojis, or use speech-to-text to dictate a response to someone's Glide video. Although the Apple Watch version of Glide will allow users to view full Glides on their Watch, it will also support Handoff, so users can go from watching a video on the Watch to an iPhone's bigger screen without missing a single beat.
Although impossible with the current Apple Watch hardware, Glide CEO Ari Roisman looks to the future to envision Glide and future iterations of the Apple Watch - with a front-facing camera - working together to provide incomparable video chatting services to users right on their wrists. Speaking to
VentureBeat
, Roisman believes that live video messaging, via wrist-worn devices, will become the most widely used way in which to catch-up with friends and family, possibly even without a paired smartphone.
"We are very bullish on the Apple Watch and believe that live video messaging from your wrist will rapidly become the easiest way to keep in touch with friends and family on the go," said Glide CEO Ari Roisman in a statement.

"We are going to be communicating with computers using natural language, in the same way we communicate with humans," Roisman said. "What that feels like is what we've been dreaming up in the world of science fiction for years. This is nothing short of epic, and the Apple Watch is just the first, tiny little half-baked manifestation of that, but it's here."
Roisman's hopeful future is no doubt far away, but it's still interesting to note how current app developers, with their own skin in the Apple Watch game, view not only the device's current state but its long-term future, as well.
Glide can be downloaded from the App Store for free. [Direct Link]