Last week, Apple released OS X Yosemite 10.10.3 with support for the new Photos for OS X app, the company's replacement for both iPhoto and Aperture; Apple also removed both apps from the Mac App Store shortly after Photos was released. Today, Apple released a support document detailing exactly what users can expect when they migrate their content from Aperture and iPhoto to Photos.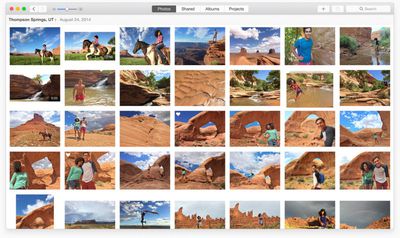 When iPhoto content (photos and video) and metadata are migrated over to Photos, they do so without changes. Images migrate over with the adjustments that were applied within iPhoto. Users will not be able to alter the images, but they will be able to revert to the original photo before adjustments were applied. Slideshows and Albums are both preserved in Photos with a few exceptions. Slideshows that use themes not available in Photos have the default theme attached to them, while Smart Albums where none of its Smart Album criteria are supported by Photos are not migrated over.
Keywords are preserved in Photos, and most metadata is migrated over, but there are some exceptions. Some IPTC metadata like Copyright are still attached to works, but they won't be visible within Photos. They can still be viewed in programs that recognize and display the select IPTC data, like iPhoto and Aperture. Finally, Events are transferred to an album called iPhoto Events in the Album View section of Photos for OS X.
Aperture's migration of content and metadata works similar to iPhoto, but with a few significant differences. Aperture projects and subfolders migrate to folders called Aperture Projects and iPhoto Events, both of which are available to view in the Album View section of Photos. Photo books also migrate to the Album section of the app. Captions are preserved in Photos, but star ratings, flagged images and color labels are turned into keywords. For example, a one-star rating shows up as "1 star" keyword, flagged images have "flagged" keywords attached and the green color label turns into a "green" keyword. Finally, custom metadata fields to not transfer to Photos.
The entire support document is helpful for those worrying about transferring their content over to Photos and can be viewed on Apple's website.