Following Wednesday's release of OS X 10.10.3 and the new Photos for OS X app, Apple has, as promised, removed Aperture and iPhoto from the Mac App Store. Apple warned that development would stop on the two photo editing apps in the middle of last year, and put notices in the Mac App Store a couple months ago to let users know the apps would be pulled from sale following the launch of Photos.
The two apps remained available for download from the Mac App Store for approximately a day after Photos for OS X was released, but attempting to access them via search now gives no results and clicking through from an external Mac App Store link gives an "Item Not Available" message.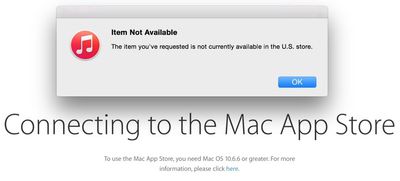 Apple has ceased development on Aperture and iPhoto to concentrate its resources on Photos for OS X, its new photo editing software that integrates with the Photos for iOS app and iCloud Photo Library to let users access their complete set of photos on any device.
Photos for OS X has been described by many as an excellent replacement for iPhoto, as it includes more advanced tools and it runs much faster. Aperture users may find Photos for OS X lacking, however, as it does not have advanced tools like a loupe or brushable adjustments. It also does not support plugins.
With only one major photo editing app to focus on, it's likely that Apple will make improvements to Photos for OS X that could bring its feature set more in line with Aperture in the future, making both casual users and professional photographers happy.
Photos for OS X is available through the OS X 10.10.3 update, and when opened for the first time, it will prompt you to migrate your existing Aperture and iPhoto libraries. Though they won't receive updates beyond compatibility fixes, Aperture and iPhoto can continue to be used for editing purposes, both alone and in conjunction with the new Photos app.