AppleCare+ for Apple Watch Priced at $49/$69/$1500, Combo Plans With iPhone $100 More
Apple began accepting Apple Watch pre-orders at 12:01 AM Pacific today and disclosed further AppleCare+ pricing details for the wrist-worn device in the process. AppleCare+ for Apple Watch plans cost $49, $59 and $1,500 for the Sport, Watch and Edition models respectively, while accidental damage coverage is subject to an additional service charge of $69 for Sport, $79 for Watch and $1,000 for Edition.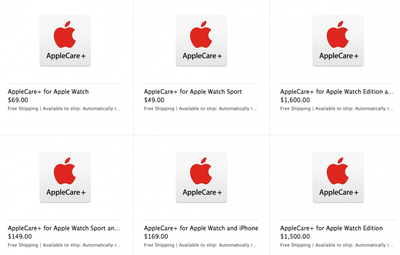 Apple is also offering AppleCare+ combo plans that cover both an Apple Watch and iPhone for a combined price of $149 (Apple Watch Sport and iPhone), $169 (Apple Watch and iPhone) and $1,600 (Apple Watch Edition and iPhone). These plans are likely offered for convenience purposes, rather than being a discount, as they cost one dollar more than purchasing AppleCare+ for Apple Watch and iPhone separately.
One potential benefit of purchasing an AppleCare+ combo plan for Apple Watch and iPhone is that Apple appears to be covering undamaged iPhones that are up to six months old. Apple's standalone AppleCare+ for iPhone plan requires that customers purchase the warranty plan within 60 days of buying an iPhone. You are still required to add an iPhone to the AppleCare+ combo plan within 60 days of buying the coverage.


AppleCare+ extends an Apple Watch's warranty coverage to two years from the date of purchase for the Sport and Watch, and three years for Edition, and provides accidental damage coverage for up to two incidents. Without AppleCare+, purchases of the Apple Watch Sport and the stainless steel Apple Watch will be covered by a limited one-year warranty for hardware repairs and 90 days of complimentary support.