'HBO NOW' Now Available for Apple TV, iPhone, and iPad
The recently announced HBO NOW channel has gone live on the Apple TV set-top box, iPhone and iPad ahead of the series premiere of HBO hit show Game of Thrones on April 12. The new Apple TV channel and iPhone and iPad app allow users to stream all of HBO's original content, past and present, as well as its entire movie catalog. The standalone streaming service costs $14.99 per month, with customers receiving the first month free if they sign up in April.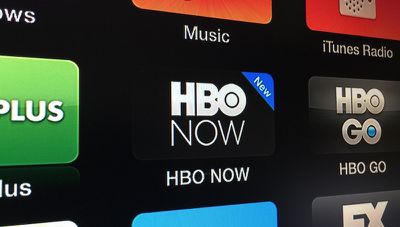 HBO NOW sorts the premium network's content into various categories, including a watchlist, series and movies. There is also the option to search for TV shows and movies, and a settings menu. The streaming service is presumably limited to the United States due to content licensing restrictions. The new Apple TV channel should appear for all users today alongside a companion app for iOS devices.


HBO NOW's official iPhone and iPad app [Direct Link] is rolling out on the App Store right now, and should become available for all users by the end of the day. After subscribing to HBO NOW through Apple TV or an iOS device, users can also access the HBO NOW website to stream content on the web using a Mac, which should be a familiar experience for those who have used Netflix.


HBO NOW for iPhone and iPad has a similar setup as the Apple TV channel, with a side menu of categories including Home, Watchlist, Series, Movies, Comedy, Sports, Documentaries, Collections, Late Night and Settings. The app is currently featuring Game of Thrones and Silicon Valley as some of its headline programming, while other popular HBO series include Last Week Tonight with John Oliver, Girls, and Entourage.
HBO NOW is based on paying a flat monthly rate of $14.99 instead of needing an existing cable or satellite subscription like HBO Go requires. By providing access to a wide range of content across multiple devices, including Apple TV, Mac, iPhone, iPad and iPod touch, and eventually other platforms, HBO NOW has adopted a Netflix model that should prove valuable for cord-cutters looking to watch HBO content without paying for an entire channel package.