Kevin Lynch and Alan Dye Share Behind-the-Scenes Details on Designing Apple Watch
In a new interview with Wired, Apple vice president of technology Kevin Lynch and head of human interface design Alan Dye shed some light on the intricate origins of the Apple Watch, from its secretive beginnings to its legacy in a post-Steve Jobs Apple.
Leaving a job at Adobe, Lynch walked onto the Apple Watch project blind and found a team of Apple engineers working away with bare-bones prototypes that included everything from vague sketches to the inclusion of an old-school iPod click wheel.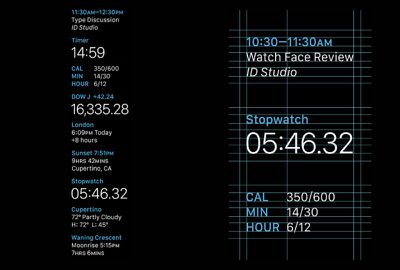 The team created a new typeface, San Francisco, specifically for the Watch


Lynch was immediately tasked with spearheading the group in designing a wrist-worn device that would, as Wired points out, aim to be Apple's fourth major game changer following the iPod, iPhone and iPad.

Apple decided to make a watch and only then set out to discover what it might be good for (besides, you know, displaying the time). "There was a sense that technology was going to move onto the body," says Alan Dye, who runs Apple's human interface group. "We felt like the natural place, the place that had historical relevance and significance, was the wrist."
Following Jobs' death in 2011, Jony Ive began envisioning what would eventually become the Apple Watch, and tasked Apple's head of user interfaces, Alan Dye, to custom-fit iOS 7 - which the group was just working on - into a wrist-worn wearable. After months of experimenting, the team settled on the thesis that interactions with the device shouldn't be long, arduous glances, but quick snapshots of information.
Our phones have become invasive. But what if you could engineer a reverse state of being? What if you could make a device that you wouldn't—couldn't—use for hours at a time? What if you could create a device that could filter out all the bullshit and instead only serve you truly important information? You could change modern life. And so after three-plus decades of building devices that grab and hold our attention—the longer the better—Apple has decided that the way forward is to fight back.

Apple, in large part, created our problem. And it thinks it can fix it with a square slab of metal and a Milanese loop strap.
The team created dozens of prototypes, including an iPhone rigged to a velco strap attached to a tester's wrist, until landing on the design launching later this month. They optimized the software with features like Short Look and Long Look, getting the Watch to differentiate between saving a notification for later when a user puts his or her wrist back down quickly after buzzing, or displaying it immediately the longer the wrist is held up.
That buzzing, which Apple has dubbed the Taptic Engine, also required significant refinement, with the team researching synesthesia, using one sense to recognize another, to tweak the taptic feedback just right.

When they had the engine dialed in, they started experimenting with a Watch-specific synesthesia, translating specific digital experiences into taps and sounds. What does a tweet feel like? What about an important text? To answer these questions, designers and engineers sampled the sounds of everything from bell clappers and birds to lightsabers and then began to turn sounds into physical sensations.

There were weekly meetings where the software and interface teams would test out, say, the sound and feeling of receiving a phone call. Ive was the decider and was hard to please: Too metallic, he'd say. Not organic enough. Getting the sounds and taps to the point where he was happy with them took more than a year.
Dye points out that while the immense amount of variations on the Watch can be initially intimidating, that vast customization option was always the plan for the Apple Watch. "We didn't want to have three variations, we wanted to have millions of variations," Dye says. "Through hardware and software, we could do that." He also maintains that thanks to the deep variety of options, the $349 Apple Watch Sport and $17,000 Apple Watch Edition are "very different products."

The team created its fitness medals in the vein of Olympic medals to encourage continuous exercise.


Though some believe the odds are against Apple, Ben Bajarin, an analyst at Creative Strategies, believes the Cupertino company can, and will, pull it off. "Apple has the most profitable, high-spend customer base on the planet," he says. "That's essentially who watch companies are already trying to sell to: more affluent customers."
But, as Wired points out, the company is equally concerned with the Watch's cultural impact as its monetary one. Lynch describes visiting with his family and not feeling the obtrusive invasion of the outside world attempt to distract him with long glances at his iPhone. Though it's still up in the air whether Apple will achieve all the goals it's setting out to accomplish with the Apple Watch, Wired caps the interview by noting, "In all the time we've been talking, he's never once looked at his phone."
Check out the full Wired interview here.